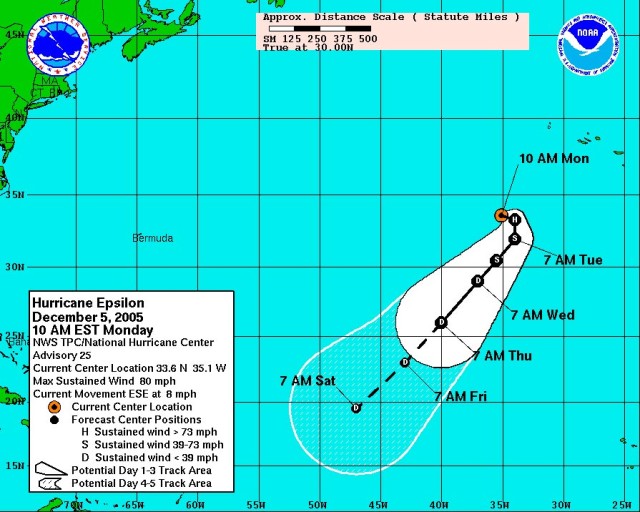 2005 has had more than its share of storms, and thus more than its share of strange storms. The three Cat 5 monsters - Katrina, Rita and Wilma - are joined by large eyed Ophelia, Spain striking Vince, and now Epsilon, which has been predicted to weaken and turn extra tropical over and over again, but...
AFTER A SLIGHT WEAKENING OVERNIGHT...MORNING SATELLITE IMAGES
INDICATE THAT EPSILON HAS RESTRENGTHENED. THE EYE HAS BECOME MORE
SYMMETRIC AND THE RING OF CONVECTION IS STRONGER THAN YESTERDAY.
T-NUMBERS FROM TAFB AND SAB ARE 4.5 ON THE DVORAK SCALE AND ON THIS
BASIS...THE INITIAL INTENSITY IS INCREASED TO 75 KNOTS. THERE ARE
NO CLEAR REASONS...AND I AM NOT GOING TO MAKE ONE UP...TO EXPLAIN
THE RECENT STRENGTHENING OF EPSILON AND I AM JUST DESCRIBING THE
FACTS. HOWEVER...I STILL HAVE TO MAKE AN INTENSITY FORECAST AND THE
BEST BET AT THIS TIME IS TO PREDICT WEAKENING DUE TO COLD WATER
...HIGH SHEAR AND DRY AIR.

THE UPPER LEVEL WINDS ARE EXPECTED TO BE
HIGHLY UNFAVORABLE AND EPSILON WILL LIKELY BECOME A REMNANT LOW. I
HEARD THAT BEFORE ABOUT EPSILON...HAVEN'T YOU?
If it befuddles Avila - one of the top tropical cyclone forecasters in the world - it has got to be strange.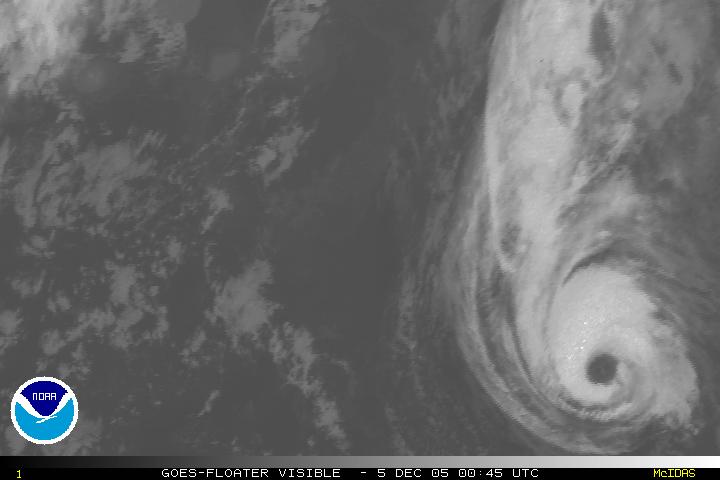 Epsilon is a north and east hybrid storm - instead of starting out as an area of thunderstorms and "convection" - hot air rising off the water - it started the other way -as a strong swirl of winds that strayed far enough over warmer water to pick up convection. Instead of being thunderstorms that go organized, it is a barocyclonic low that went shopping. Over and over again NHC, the models from computers, and basic statistical track records have said that Epsilon wouldn't make hurricane, would lose the convection over colder water, would disspiate or be absorbed, or picked up in the westerlies. Instead Epsilon got very organized, acquired, and more ore less kept, an eye, has a good ring of convection, and has strayed farther and farther south, thus buying more and more time.
It is even possible, though very unlikely, that Epsilon will manage a "crazy Ivan" - where it circles around south enough to regenerate strength. But no more unlikely than what has already happened. Bet on it I wouldn't, but, at this point, betting against this storm is a negative expecation proposition.
Of course it will come to an end, but Epsilon, like Vince, has had a longer run than any one expected for a December Atlantic storm. It is a warning that warming Sea Surface Temperatures - SST in the lingo - will mean more late season storms, and eventually perhaps landfalls of those storms. If the Gulf Stream is indeed shutting down, then the possibility that cold lows will stray south and pick up tropical characteristics grows higher, and sinc ethe air is colder, it will take lower SST to create convection. It also holds implications for the Southern Atlantic, because while the Southern Atlantic does not have what is called "The Intertropical Convergence Zone" a belt of stormy weather which is the nursery of normal tropical storms, strong barocyclonic lows often wander in from the south, and could pick upt tropical characterisics in the belt of warm water between Africa and South America. With a large number of cities that have large shanty towns, this creates the long term potential for a landfall in Brazil that could crete thousands oc casualties and hundres, even thousands, of deaths.
Go to Original Article >>>
The views expressed herein are the writers' own and do not necessarily reflect those of Looking Glass News. Click the disclaimer link below for more information.
Email: editor@lookingglassnews.org.