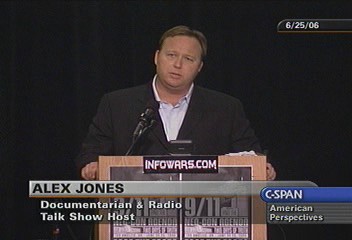 Scholars symposium to re-air again on Tuesday
Judging by the reaction on the web to C-Span's airing of the American Scholars Symposium, the 9/11 truth movement has been afforded another jolt of momentum in its quest to bring criminal proceedings against those complicit in the attack and its subsequent cover-up.
C-Span repeated the show Sunday and set to re-air it again Tuesday at 6:10PM EST, 5:10 CST.
The show is currently archived on C-Span's website and you can watch it for free here.
Webster Tarpley, one of the keynote speakers and panel members at the symposium, today calls for a concerted effort to use the C-Span broadcast to discredit phony left-right gatekeepers who have resolved to blindly accept the government's version of what happened on 9/11.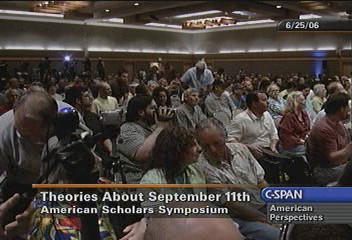 "Let us mobilize to organize the biggest audience ever by an incessant and sustained intervention in radio and television call-in talk shows, by blast emails, by direct personal contact alerts, by public signs, leaflets, and by every other means at our disposal," Tarpley wrote.
"Let us overwhelm Rush Limbaugh, Hannity, Jerry Doyle, Glenn Beck, and the other fascist parrots of the airwaves with the announcement of the Tuesday broadcast. Let us confront Ed Shultz and the other Air America gatekeepers with reality of the Tuesday show. Please do the same in the rest of the world."
Before its initial screening on Saturday evening, many were concerned that the conference was so unrelenting in its hardcore stance on 9/11, that C-Span would be pressured into canning the show. This proved not to be the case and multiple repeats of the conference within days at peak times prove the program has received very favorable ratings.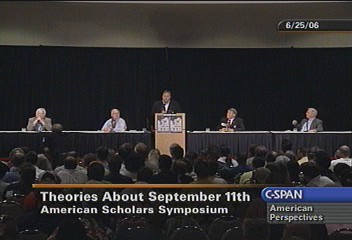 This is another hammer blow to the establishment kingpins who had hoped questions about 9/11 would evaporate as we approach the 5th anniversary of the attack.
The 9/11 Blogger website is coordinating numerous activism campaigns in alliance with the C-Span coverage, including encouraging UN members to view the broadcast, targeting left and right radio and TV gatekeepers, and also a flyer campaign.
We implore everyone to get onboard with these campaigns and help spread 9/11 truth to the four corners of the world via the exemplary platform of the American Scholars Symposium.
________________________
Read from Looking Glass News
C-Span Airing Of L.A. Conference Shows Mainstreaming Of 9/11 Truth
Norge "Le Monde" puts 9/11 on Front Page
Worldwide Media Covers L.A. 911 Conference
Pentagon Papers Author Daniel Ellsberg Says Government May Have Carried Out 9/11
C-Span's Washington Journal Hangs Up on Caller Who Questions Official Lie About Events of 9-11
Chertoff cousin, McCain team up for 9/11 disinfo blitz
9/11 Pentagon eyewitness IDs Global Hawk
Disgusting Iran-Contra Criminal Grills Jim Fetzer
Scientific Analysis Proves Towers Brought Down By Incendiaries
Heavyweights At 9/11 Truth Conference
First Amendment Assassins: Media assaults on 911 Truth Movement
Zogby Poll: Over 70 Million American Adults Support New 9/11 Investigation
The CRIME that Covered-up the Coup
Debunking Conspiracy Theorists: Paranoid Fantasies About 9-11 Detract From Real Issues
Evidence Of Thermite On WTC Core Columns - Photo
Physicist says heat substance felled WTC
The Destruction of the World Trade Center
On 9/11: Was the Asbestos-Laced World Trade Center "Disposable"?
Scientific Evidence that Official 9/11 Story is a Lie
Former German Minister Says Building 7 Used To Run 9/11 Attack
The CRIME that Covered-up the Coup
The 1975 World Trade Center Fire
Landmark Implosion Looks Like WTC Collapse
Twin gas tanks' demolition foreshadows Twin Towers' demolition
Go to Original Article >>>
The views expressed herein are the writers' own and do not necessarily reflect those of Looking Glass News. Click the disclaimer link below for more information.
Email: editor@lookingglassnews.org.