(Via Buzzflash, via Taylor Marsh, via Mash)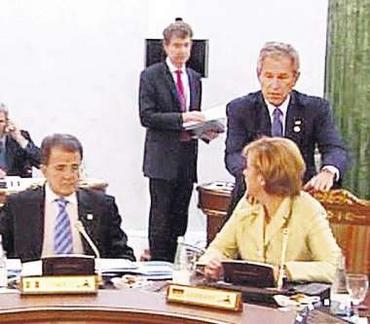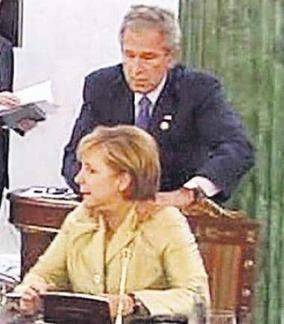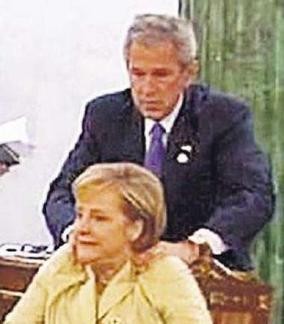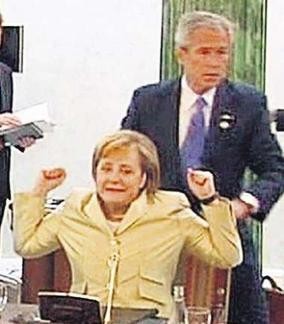 What's more disturbing here? The fact that Bush has goosed the German Chancellor at a high-level summit meeting? Or the completely zonked-out look on his face? Is he on Halcion, like dear old dad? Or is it Old Grandad again? Has there ever been such a goon in charge of a vast nuclear arsenal? Lord have mercy on us all.
Video uploaded at Youtube by Richard K.

___________________________________________
The Middle East is in crisis, international tension has not been this high for decades and President Bush is excited about the honor of "slicing the pig."

_______________________________________
Bush said he had told the Russian leader that people in the US wanted Russia to promote the sort of democratic institutions that exist in Iraq. Putin's deadpan response caused even the thick-skinned Texan to blush. "To be honest, we certainly would not want to have the same kind of democracy as they have in Iraq," Putin said, prompting laughter and applause from many of the assembled reporters.

__________________________________
Read from Looking Glass News
Question for Bush and Blair. What man involved in Middle East policy is "sweet," according to Bush and "honey," according to Blair?
TRANSCRIPT OF PRESIDENT'S CHAT WITH DOUBLE AMPUTEE WMD HUNTER DURING TOTALLY NON-GROTESQUELY EXPLOITATIVE SOUTH LAWN PHOTO OP
George W. Bush's marital problems have just taken another turn for the worse.
Even Bush's crap is classified top secret
Bush's Crawford Ranch: An Elaborate Set
Things You Don't Know You Know George W. Bush Knows

Go to Original Article >>>
The views expressed herein are the writers' own and do not necessarily reflect those of Looking Glass News. Click the disclaimer link below for more information.
Email: editor@lookingglassnews.org.