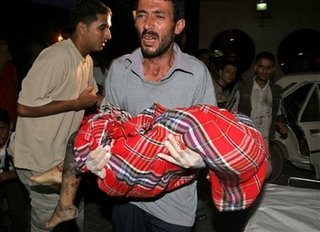 A SIX-YEAR-OLD Palestinian girl, her mother and elder brother were killed in a house on the edge of Gaza City last night, shortly after a stray Israeli missile targeting militants struck a residential area.

The girl, identified as Rawan Hajaj, was taken to hospital wrapped in blankets, the back of her head shorn open. Six others were injured when what Palestinians described as an artillery shell hit the house.

The Israeli military, initially denying that any shells had been fired, later admitted a missile had missed its target in an open field and landed on a street in the Shajaya district on the outskirts of the city, near the Karni border crossing.
There is no end to Israeli brutality.
Palestinians have nowhere to hide.
They are born with an Israeli bullet or missile in their name.
And on it is inscribed made in the U.S.A.
___________________________
Read from Looking Glass News
The Corporate Interests Fueling Conflict in Palestine
Gaza and the Treason of the International Community
Israel: Rogue Nation Committing Genocide
"Escalation", "retaliation" and BBC double standards in Gaza
A Glossary of Dispossession: Hiding Behind Words
Killing a Nation to Rescue a Soldier
Go to Original Article >>>
The views expressed herein are the writers' own and do not necessarily reflect those of Looking Glass News. Click the disclaimer link below for more information.
Email: editor@lookingglassnews.org.