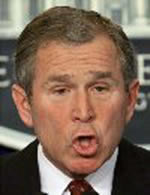 Too bad the president didn't have time to take a leisurely stroll around that "George W. Bush Square" that Richard Perle promised us we'd see in Baghdad within a year after the invasion, eh? I'll bet the locals would have loved to meet and greet their liberator. Oh well, maybe next time!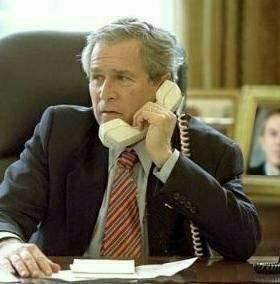 ____________________________________
Read from Looking Glass News
Only Domestic Help Wear Uniforms
http://www.lookingglassnews.org/viewstory.php?storyid=6269
Fast-track Flyboy
http://www.lookingglassnews.org/viewstory.php?storyid=6117
All "Government / The Elite" News Articles
http://www.lookingglassnews.org/index.php?topic=16
All "Government / The Elite" Commentaries
http://www.lookingglassnews.org/commentaryindex.php?topic=8
________________________________
At least 36 killed as Bush makes surprise Baghdad visit
by Marwan Ibrahim
AFP
At least 36 people were killed across Iraq, including 18 in a bombing campaign in the oil city of Kirkuk, as US President George W. Bush made a surprise five-hour visit to Baghdad.
Five car bombs, several of them involving suicide attackers, rocked the ethnically diverse city that has been more known individual killings between ethnic and sectarian groups.
Another attack was foiled when guards shot dead the driver of an explosives-laden car as he drove it toward the headquarters of the Patriotic Union of Kurdistan party. The car did not exploded.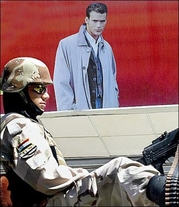 An Iraqi soldier secures a street in central Baghdad. At least 36 people were killed across Iraq, including 18 in a bombing campaign in the oil city of Kirkuk, as US President George W. Bush made a surprise five-hour visit to Baghdad.(AFP/Wisam Sami)
The first car bomb exploded at around 7:30 am (0330 GMT) in the Tisaeen market in an area largely inhabited by Shiite members of the city's Turkmen community, killing 13 people, including two policemen, and wounding 18.
Approximately half an hour later, a suicide car bomber attempted to ram the main police headquarters, prompting police to open fire on it. The car exploded before reaching its target, police Major General Torhan Yussef said, but two policemen died and eight civilians were wounded.
The three other car bombs, one of which was a suicide attack, exploded in different parts of the city, killing three more policemen and wounding more than a dozen, including Colonel Taher Salah al-Din, police chief in the southern Hurriyah neighborhood.
The bombing campaign comes after the arrest in Kirkuk of eight suspected insurgents by US and Iraqi forces on Sunday.
"I would characterize the events today as uncharacteristic of the situation here in Kirkuk, but not surprising due to recent events," said a US military officer based in the city.
After Wednesday's killing of Abu Musab al-Zarqawi, Al-Qaeda in Iraq said it had chosen a new leader, Abu Hamza al-Muhajer, and promised to continue the work of slain militant leader.
It decided to "prepare, in coordination with the other components of the consultative council of the mujahedeen, great operations that will shake the enemy", an Internet statement said.
Meanwhile, there a number of attacks in Baghdad, as the government unveiled a security plan for the capital that would lengthen the nightly curfew and put 40,000 troops on the streets.
A bomb targeting a police patrol in central Baghdad killed one policemen and wounded four others, as well as injuring a prisoner they were transporting.
Mortars falling on the Abu Chir neighborhood in southern Baghdad killed one person and wounded 12.
A professor at the College of Engineering was shot dead as he left his house and 14 bodies, shot and bearing signs of torture, were found in and around the city.
In Karbala, gunmen shot dead a police captain and another policeman.
A bomb targeting a police patrol in the Samarra market missed its target but killed four civilians and injured seven.
Four civilians, including a two-year-old child, and a policemen were killed in a series of attacks in Baquba, northeast of Baghdad.
Gunmen killed three policemen and wounded three others in Balad Ruz, southeast of Baquba, while a man distributing newspapers in Fallujah was shot dead by gunmen.
As violence ripped through the country, Bush landed in Baghdad for a surprise visit to meet Prime Minister Nuri al-Maliki.
The visit, his first since November 2003, was marked by the tightest security and secrecy which meant that even Maliki learned that he was to see the president only minutes before they met.
Backing Maliki, Bush said he was impressed by the composition of the Iraqi cabinet and its strategy.
"I've come to not only look you in the eye, I've also come to tell you that when America gives its word, it will keep its word," said Bush, who left his Camp David ranch secretly overnight to make the surprise trip to Iraq.
"I'm impressed by the cabinet that you've assembled ... I'm impressed by the strength of your character and your desire to succeed. And I'm impressed by your strategy."
Maliki, who described the meeting as a "milestone for good relations", vowed that Iraq was "determined to succeed and defeat terrorism. We will defeat terrorism with the support and partnership of the United States."
"God willing, all the suffering will be over and all the soldiers will return to their countries."
Meanwhile, security measures in Baghdad were being beefed up.
The defense ministry said the nightly curfew will begin two and a half hours earlier at 8:30 pm (1630 GMT) and cars will be banned from the streets on Friday afternoons during prayer time.
In addition, there will be massive deployments of US and Iraqi troops to troubled neighborhoods in the capital, said General Abdel Aziz Mohammed, without saying when the measures would come into effect.
Go to Original Article >>>
The views expressed herein are the writers' own and do not necessarily reflect those of Looking Glass News. Click the disclaimer link below for more information.
Email: editor@lookingglassnews.org.