America plans to retain a garrison of 50,000 troops, one tenth of its entire army, in Iraq for years to come, according to US media reports.
The revelation came as George W Bush summoned his top political, military and intelligence aides to a summit on Iraq's future today at the presidential retreat at Camp David.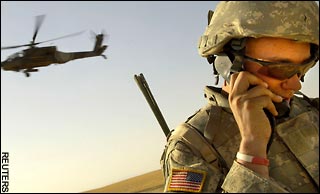 America has indicated that it may raise troop levels in Iraq in the short-term
Tomorrow the Americans will talk by video link to Nouri al-Maliki, Iraq's prime minister, and members of his cabinet, as well as American military commanders in Iraq.
The meeting marks the highest profile discussion of Iraq's future so far, and reflects the Bush administration's determination to exploit the two most promising developments in Iraq for many months - the death of Abu Musab al-Zarqawi, the leader of al-Qa'eda in Iraq, and the completion of the first permanent post-war cabinet.
Mr Bush said the meeting would decide "how to best deploy America's resources in Iraq and achieve our shared goal of an Iraq that can govern itself, sustain itself, and defend itself".
But despite fierce domestic pressure to reduce troop levels before November's critical mid-term elections, there were growing signals that Gen George Casey, America's Iraq commander, may raise troop levels in the short-term.
Mr Bush said in his weekend radio address that "violence in Iraq may escalate" as terrorists tried to prove that they had survived the loss of their leader.
American commanders are also worried by the situation in the Sunni areas at the heart of the insurgency, where American units have complained of a shortage of men.
Mr Maliki pledged in a Washington Post article to confront the Shia militia, but his plan to "re-establish a state monopoly on weapons" could well generate a confrontation between ultra-religious gunmen and the fledgling Iraq security forces.
America's military would be drawn into any defining battle over who rules Iraq.
Gen Casey has already summoned his main reserve unit, a 3,500-man armoured brigade based in Kuwait and has alerted a Germany-based brigade that it may be needed soon.
Military planners have begun to assess the costs of keeping a 50,000-man force in Iraq for a protracted period of time. At present the total number of serving American troops is about 500,000.
The plan has not yet received presidential approval. But it would fit with the administration's belief that while troops numbers will fall, American forces will have to remain in Iraq beyond Mr Bush's departure from the White House in early 2009.
Military analysts have noted that significant American spending is already being committed to permanent bases in Iraq. They say Iraq's military may soon be able to fight by itself, but it cannot feed or supply itself and it has no air force to speak of.
The Camp David meeting will be attended by Dick Cheney, the vice-president, Donald Rumsfeld, the defence secretary, Condoleezza Rice, the secretary of state, John Negroponte, the director of national intelligence, Gen Michael Hayden, the CIA director and Gen Peter Pace, America's top soldier.
Go to Original Article >>>
The views expressed herein are the writers' own and do not necessarily reflect those of Looking Glass News. Click the disclaimer link below for more information.
Email: editor@lookingglassnews.org.