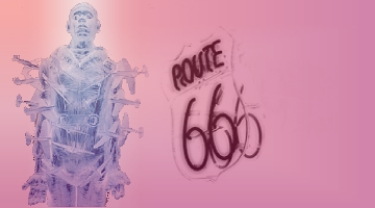 2 Murders and Missing Cash in Iraq
The killing of Fern Holland, a young human rights worker from Oklahoma, remains as unsolved and mysterious as it was when her body was found riddled with bullets on a desolate stretch of road near one of Iraq's southern holy cities in March 2004.

Now, federal investigators in the United States are grappling with a second mystery: what happened to hundreds of thousands of dollars in cash issued by U.S. government authorities to Holland and Robert Zangas, a press officer who died in the same incident, in the days before their deaths?

Financial records from the American- run compound in Hilla, the south-central Iraqi city where Holland and Zangas were based, have disclosed that much or all of that money - issued for things like programs to train Iraqis in the workings of democratic governance and the building of women's rights centers that Holland was establishing in Iraq - was either missing or improperly accounted for immediately after their deaths.

Investigators are trying to determine whether that money was stolen as part of the web of bribery, kickbacks, theft and conspiracy that they have laid out in a series of indictments and court papers describing corruption by U.S. officials in Hilla in 2003 and 2004, according to officials involved in the inquiry. That corruption case, centered on reconstruction efforts, has led to four arrests, and more are expected.
Holland was the first US civilian to be murdered in Iraq. Two months later, the second was Nick Berg. For what it's worth, which may not be much, both were alumnists of Oklahoma University, where Berg's email account found it's way to Zacharias Moussaoui.
Berg was allegedly in Iraq on the business of repairing communication facilities, notably a radio tower near Abu Ghraib, and had as a business partner Aziz al-Taee, an Iraqi-emigre linked to Russian mafia. One of Berg's killers is heard to say "Do it quickly" in Russian.
I'm rambling, but here's the thing: Iraq has meant a massive transfer of wealth, much of it "lost" on the grey market. It's what pirates do, and they honour flags only for their convenience. Every last death in Iraq can be attributed to the profit-taking, though some, like Holland's and maybe Berg's, more directly than others.
Go to Original Article >>>
The views expressed herein are the writers' own and do not necessarily reflect those of Looking Glass News. Click the disclaimer link below for more information.
Email: editor@lookingglassnews.org.