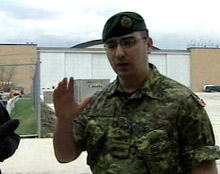 Capt. Peter Fullola says he hopes the urban-warfare training exercise in Winnipeg streets "will be realistic." (CBC)
More than 500 soldiers carrying guns will fan out through Winnipeg streets beginning Sunday, in the largest urban-warfare training exercise in the Canadian military's history.
The military reservists from Saskatchewan, Manitoba and northwestern Ontario will take part in Exercise Charging Bison from Sunday to May 6.
The military says it's important because soldiers are finding themselves patrolling civilian areas more often, in places like Afghanistan.
Letters have been sent to 58,000 homes in three neighbourhoods where the drills will take place.
No road closures are planned, said Brian Hillier, a civilian public affairs officer with Land Force Western Area headquarters in Edmonton.
Soldiers will be armed, but they'll be using blank or simulated munitions or pyrotechnics during day sessions, he said.
INDEPTH: Canadian military
Go to Original Article >>>
The views expressed herein are the writers' own and do not necessarily reflect those of Looking Glass News. Click the disclaimer link below for more information.
Email: editor@lookingglassnews.org.