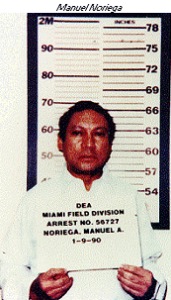 Noriega: If he is exiled to to Venezuela, he will spill the beans on the Bush Crime Family. If he is extradited to France, he will get the "Milosevic treatment."
According to informed sources in Washington, former Panamanian President Manuel Noriega, considered a legal "prisoner of war" by the United States, will be released from a Federal prison in Miami in May. Noriega is presently serving a 98-year sentence for homicide, drug trafficking, and corruption. He has also been sentenced in absentia in Panama to a 60-year sentence. In 2004, the Federal judge who sentenced Noriega recommended that due to his advancing age and conversion to Baptist, he be paroled. However, informed sources report that negotiations are taking place between Panama, the United States, and France to have Noriega extradited to face criminal charges in France. Panama reportedly has agreed to allow the United States to extradite Noriega to France. The primary supporters of Noriega's continued imprisonment are President Martin Torrijos, the son of Panama's pre-Noriega dictator Omar Torrijos; First Vice President Samuel Lewis Navarro; and Panamanian ambassador to the U.S. Federico A. Humbert Arias. All three are reportedly close to right-wing GOP circles in the Bush administration, including the Cuban-American rightists in the GOP, as well as Bush-connected businesses, including Halliburton and Wachovia Bank.
The word is that Panama and the United States would prefer to have France give Noriega, who is now 72, a ten-year sentence with the hope that he will die in a French prison thus extricating the Bush administration from having the ex-president, jailed by Bush's father, from dying on U.S. soil -- a potential embarrassment to the U.S. in a Latin America that is now awash in anti-American fervor. In 2004, Noriega suffered a minor stroke.
However, there are also those in Panama and Latin America who are pressing for Noriega to be allowed to go into exile in Venezuela, where President Hugo Chavez wants to permit the former Panamanian President and one-time close ally of the United States and CIA to freely reveal everything he knows about the involvement of President George H. W. Bush and leading Reagan and Bush I officials in drug and weapons trafficking and money laundering involving the Bank of Credit and Commerce International (BCCI) and other corporate entities.
Go to Original Article >>>
The views expressed herein are the writers' own and do not necessarily reflect those of Looking Glass News. Click the disclaimer link below for more information.
Email: editor@lookingglassnews.org.