The corporate media won't tell you this -- but the Bush trip to South Asia was nothing less than a disaster, according to direct and uncensored reports from India and Pakistan. Street protests against Bush in India were not in the "thousands," as reported by the media, but in the "hundreds of thousands." And they involved more than Muslims, but included protestors from left-wing and regional parties, as well as labor unions and student organizations.
The safest place Indian authorities could find for Bush to give his keynote speech was the New Delhi zoo and boat club Purana Quila complex. Indian legislators threatened a noisy reception for Bush if he address parliament.
Indians remained miffed that another noted Indian scientist was crudely denied a visa to visit the United States. Agro-scientist P. C. Kesavan was invited to attend a scientific conference in the United States this month. However, Kesavan said he was forced to wait in line for three hours at the U.S. Consulate in Chennai and was then handed a 14-item questionnaire and told to return in two days. Kesavan told the Press Trust of India, "It is an insult to the Indian scientific community. It always happens to Indian scientists whenever they apply for a visa to visit the US." Two Indian nuclear scientists were also denied visas to attend conferences in the United States: Dr. Placid Rodriguez, the former director of the Indira Gandhi Center for Atomic Research (IGCAR) and former Indian Institute of Science head Goverdhan Mehta. All three scientists were denied visas by the US Consulate in Chennai, Kesavan said he would never again step foot on American soil and said that the US visa officer at the Chennai consulate did not know what DNA, genetics, radiation biology, and sustainable development meant. President Bush announced during his trip that his administration would open yet another US consulate in Hyderabad -- perhaps staffing it with additional US foreign service personnel who will continue to represent the incompetence and ignorance of Condoleezza Rice and George W. Bush.
In his speech at the New Delhi zoo, Bush said, "I believe that a prosperous, democratic Pakistan will be a steadfast partner for America, a peaceful neighbor for India and a force for freedom and moderation in the Arab world." Since Pakistan is not an Arab nation, Indians and Pakistanis, alike, were confused about what Bush was talking about.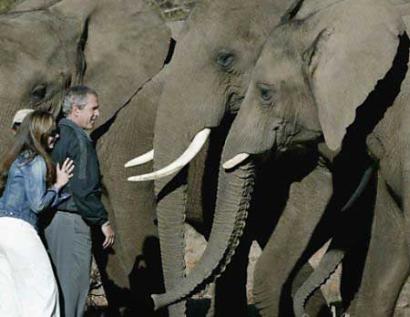 Bush's usual overseas animal audience. In Botswana, he spoke to the elephants. In New Delhi, he spoke at the zoo. But two elephants in Botswana decided to act out what they thought of Bush, right to his face, proving that there are animals that are much more intelligent than certain "elected" human "leaders."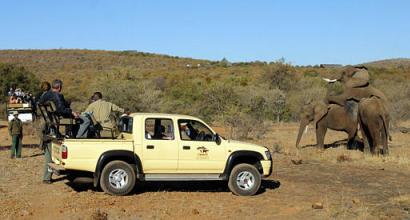 Go to Original Article >>>
The views expressed herein are the writers' own and do not necessarily reflect those of Looking Glass News. Click the disclaimer link below for more information.
Email: editor@lookingglassnews.org.