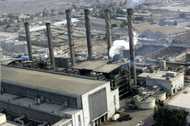 An aerial view of the Daura power station in Baghdad December 28, 2005, part of an electricity network which is struggling to cope with the city's power demands. The U.S. military said on Wednesday Baghdad was getting an average of only six hours of electricity a day, down from 11 hours in October, largely because of insurgent attacks on power lines. REUTERS/STAFF
Baghdad is getting only around six hours of electricity a day, down from 11 in October, and attacks on Iraqis working on U.S.-backed reconstruction projects are at a record, the U.S. military said on Wednesday.
December was the worst month for such attacks, said Brigadier General William McCoy, head of the U.S. Army Corps of Engineers. Six Iraqi contractors were killed, five wounded and two kidnapped in 32 assaults across the country.
"It's been a pretty bad month," McCoy said.
Haphazard electricity supply is one of the main gripes of Baghdad's six million inhabitants. It frequently cuts out, making it difficult for people to work and leaving them cold in winter and hot in summer.
At night, private generators are the only source of power. Most Baghdad households rely on lamps or candles for light and kerosene heaters for warmth.
Iraq's U.S. backers vowed to improve supply this year to satisfy demand but have failed, partly due to a shortage of high-quality fuel for generating plants and partly due to attacks from insurgents who want to drive the Americans out of the country.
Meanwhile, more and more Iraqis are buying fridges, air- conditioning systems and televisions, forcing demand even higher and putting the creaking system under ever greater strain.
McCoy said Iraq now needed 7,200 megawatts (MW) of generating capacity to meet its needs, up from 4,800 MW at the time of the U.S. invasion in 2003.
"We can put almost 7,100 MW on line in the country today," he told reporters. "The problem is that at any one time, 2,800 MW of that is off-line for maintenance, and that's largely because of terrorist attacks."
The Americans say most of Iraq now gets around 13 hours of electricity a day but Baghdad, home to nearly a quarter of the country's population of 27 million, remains a problem.
"We got up to around 11 hours in October, but we're down to around six hours a day now," McCoy said.
As head of the engineers corps, he oversees over 3,000 infrastructure projects funded from the $20 billion the U.S. government set aside for reconstruction after the invasion.
MONEY AND DANGER
Although many construction contracts go to U.S. and other foreign firms, most of the on-site workers are Iraqis, who risk their lives for the relatively high wages on offer.
The price of protecting workers has soared.
"When we did the initial planning it was relatively peaceful and we thought security would account for about nine percent of total cost, but it's turned out to be around 18-22 percent," McCoy said. "Security has been expensive."
The reconstruction of Iraq has been problematic from the outset and some Iraqis suspect a sizeable chunk of the money the U.S. government set aside for rebuilding has being squandered or lost to corruption.
In January, a report into mismanagement by the Coalition Provisional Authority (CPA), the U.S.-led body which ran Iraq after the invasion of 2003 until June 2004, concluded the CPA failed to adequately safeguard $8.8 billion of Iraqi money and, as a result, left it open to fraud and kickbacks.
The CPA "was burdened by severe inefficiencies and poor management," concluded the audit, written by Stuart Bowen, the U.S. Special Inspector General for Iraq Reconstruction.
U.S. authorities say lessons have been learned since then and the rebuilding of Iraq from the rubble of war and decades of neglect under Saddam Hussein is finally gaining pace.
Go to Original Article >>>
The views expressed herein are the writers' own and do not necessarily reflect those of Looking Glass News. Click the disclaimer link below for more information.
Email: editor@lookingglassnews.org.