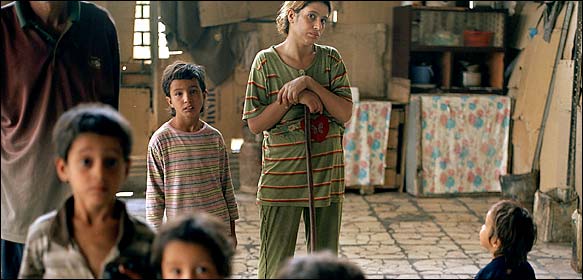 "We once lived in a good place, but that was before the war. It got expensive after the war so we moved out. Now everything costs so much. The rents are too high. Food is not cheap. My husband can't find work, so we live here. This war did little to help us. We are worse now than before. And to make matters worse, I am pregnant again."
NAHAD JABAR JOUAD, center. Living in an abandoned building with her husband and children
________________
IN Iraq, nobody knows, and few in authority seem concerned to count, just how many civilians have been killed and injured. Soon it will be three years since the American-led invasion. The estimates of those killed run into the tens of thousands, the numbers of wounded two or three times the number who lost their lives. Even President Bush, estimating recently that 30,000 civilians may have been killed, acknowledged that was no more than an abstraction from unofficial calculations, not a Pentagon count.
To take his own measure of the war for The New York Times, Adam Nadel broke from the compulsions that dictate the days of many photographers in Baghdad, the suicide bombings and roadside explosions and assassinations that fill the morgues and the hospitals. Over weeks, he went in search of those who had survived attacks, and others whose lives had been upended by the violence. He visited them in their hospital wards, in their neighborhoods, and in their homes, and captured, in images and in words, what the war has meant for them.
Their portraits and their stories compel attention, not because they have endured worse than others, but because their miseries are so commonplace, because they stand for what thousands of Iraqi families have endured, directly or through ties of community and tribe. In his or her own way, each of these survivors is a totem for all, in a war where nobody has an exemption from the bombs and the bullets and the carelessness, or mischance, that determines who lives and who dies.
To these Iraqis, the debate over whether the war has been just or unjust, whether the blame lies with Saddam Hussein, or the Americans, or the insurgents, is a distant thing, carrying no promise of relief from their pain. Their faces, like their words, speak of what they have lost, but also, mutely, of their struggle to find new meaning in their lives, to fill the void that war's impact on noncombatants has always made of hope.
Face of Sacrifice in Iraq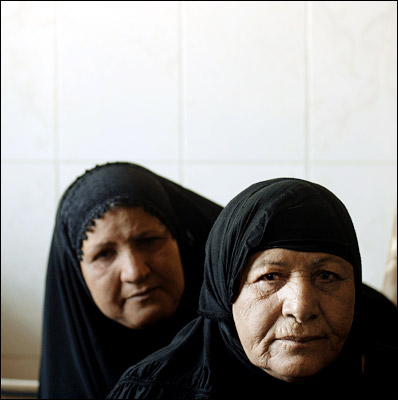 "We received a call from Baghdad. My husband answered. He got off the phone. He was nervous, worried and announced, 'I am going to Baghdad.' He was yelling. He never yells. I ask, 'What's going on in Baghdad?' He will not tell me. He says something bad happened to my son. I grabbed him by his clothing and demanded to know what happened to my son. He refused and left the house. I don't know where he was going. I don't know what to do. Do I cry, do I slap myself? Do I tell my son's wife? She is nine months pregnant."
FADHILAA HAMZA ABED, right
Mother of a man wounded in a suicide bombing
___________________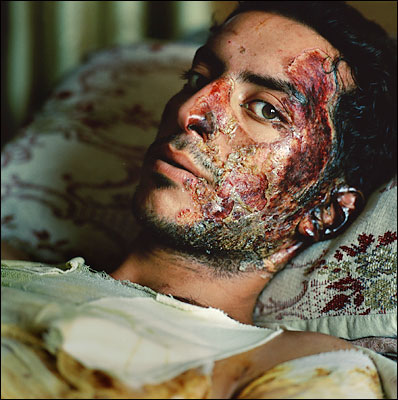 "I was at home with my sister. She asked me to buy some ice cream. So I thought: 'Good idea. I'll get one for you and one for me.' I remember walking toward the market. Then, an explosion. I woke up at the hospital. Now I am burnt. My ankle is broken. My body is filled with shrapnel."
ALI KHALIL THEJEIL, 22
Wounded when a bomb ignited a fuel truck
_______________________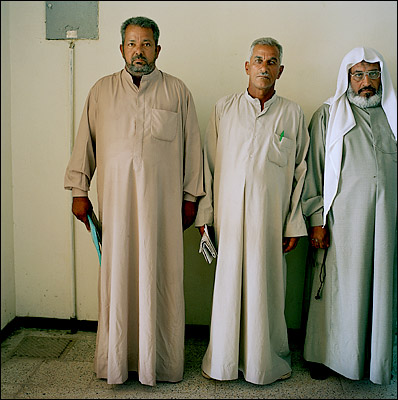 "He was a very brave boy. Nothing scared him. Nothing can prepare you for the death of your son."
- FATHER OF BASHIR ADIL KHAMES AL-MAYAKI, left
"My son saw a man. He suspected he was a bomber. He tackled the terrorist, wrapped his arms around him as he detonated. There were many people in the street. He saved so many of them."
- FATHER OF NASSER ABID MUHSIN, center
"He sacrificed himself for his country. He was 18 years old. He had served for two and a half years. He was our youngest son. We are proud of what he did."
- FATHER OF ALI MAYID KHALAF, right
The fathers of Iraqi soldiers killed by suicide bombers
_________________________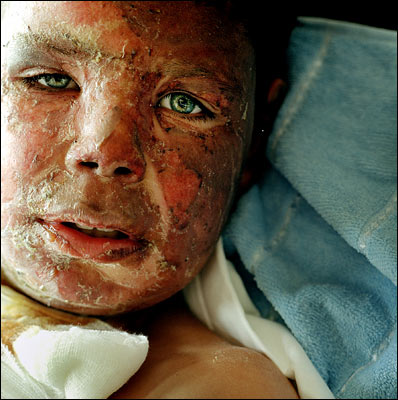 "We had just started playing. Then I woke up in the hospital. I heard that Muhammad was also hurt. I do not know if he has burns or open wounds. I am just waiting to get out of the hospital so I can play again. I told my mother to tell my brother not to play outside anymore."
HADER REDHA, 11
Wounded when a bomb ignited a fuel truck
___________________________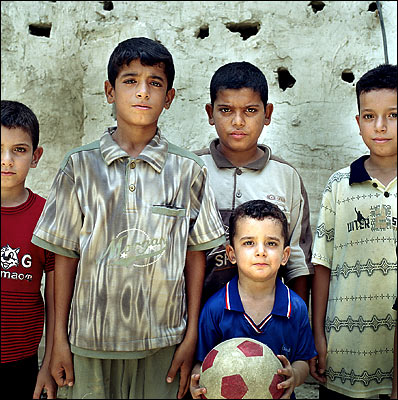 "My grandfather and I took down our curtains in our home so we could wrap the dead boys in them. He did not want them to lie exposed, uncovered, in the streets. First, we tore the curtains in half. Then my grandfather and I went into the street. Together we wrapped my dead friends. We used to play soccer 11 on a side. Now there's only enough for three against three."
MUHAMMAD SATTAR, 11, second from left
Twin brother was killed in a bombing
______________________________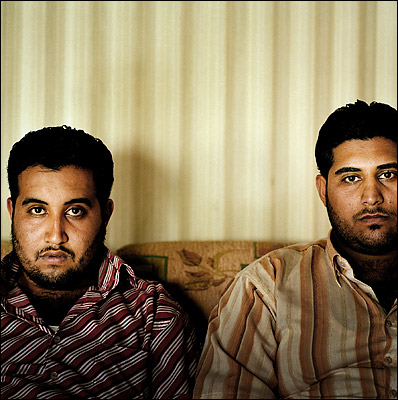 "I drove to a place near Abu Ghraib. There were three of them in the car. I told them, 'I will give the money but first give me my father.' They refuse and tell me to wait half an hour and your father will come. What could I do? I gave the money, and I waited two hours. He never arrived. That was 10 days ago."
- MUAID, 24, left
"We don't know what to do. The only advice we get from the officials is to pay more money and maybe he will be released. We sold almost everything to pay the ransom, and our uncles and cousin all have given money. We do not know what options remain."
- MUHAMMAD, 26, right
Their father was kidnapped last summer
_________________________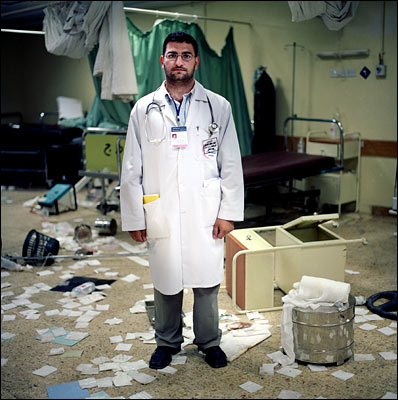 "The police officer had sustained three injuries to the chest. The wounds were the result of a terror attack. Vital signs unstable. He was seriously injured. He was dying. There were eight doctors working on him; three were specialists. When he was declared dead, his fellow officers attacked the doctors and nurses. They blamed us for his death. They then destroyed our emergency room. In the last few months, such attacks have become the norm." - DR. AHMED MUTHAFAR Emergency room doctor
_______________________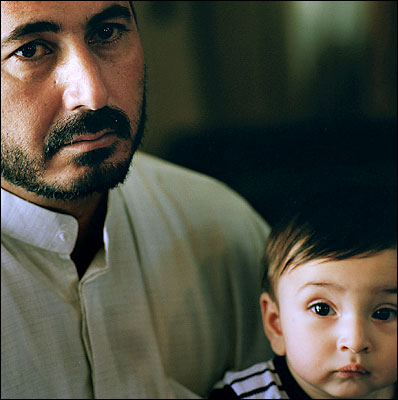 "After the shooting stopped, the American convoy continued driving. I thought only the driver was hit. His injuries were serious but not life threatening. When I looked into the back seat, I found my wife and two children covered in blood. I realized my wife was dead. My daughter was dead. I tried to lift my daughter. Parts of her brain fell from the wound on the side of her head. My baby boy was covered with blood and wounds. He survived. I don't know why the Americans shot at us." - AHMED MOAYDA, WITH HIS SON, HAMZA Said his family was fired on by an American convoy as they were traveling by car from Baghdad to Jordan
___________________________________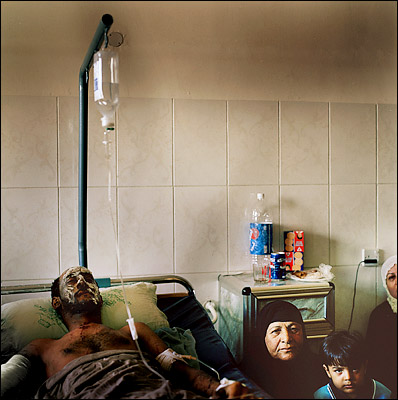 "I came to Baghdad looking for a job. I decided to join the army or police department. I went to the recruiting center. The bomber was among us, talking with us. A stranger saved my life. He yells, 'Come over here with me, I want to talk to you.' I had gone maybe two or three meters. ... There was an explosion." - HIDER FESAL RIDHEY, 22 Wounded in a suicide bombing
_______________________________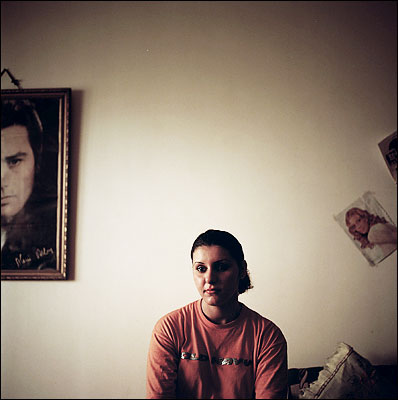 "I trained to be a hairdresser. First I went to school. Then I began to work at a shop. I really liked it. ... One day they came and told us to shut down the shop. We did not. They returned again and threatened us. Later, the shop was destroyed by an explosion. Now I stay at home all day. I really miss my job, getting out. I have lost everything I worked for. It is gone forever." - VIVIAN, 23 Says she feels it is too dangerous to work in public
__________________________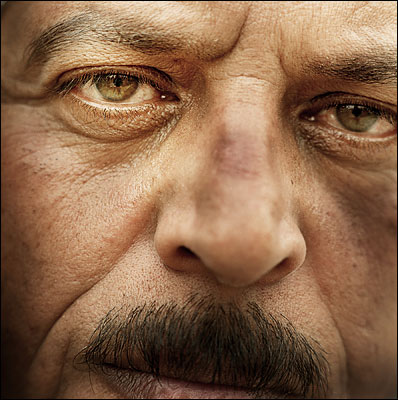 "They covered my eyes and tied my hands behind my back. They locked me up for four days in a room. No food, no drink; every day they beat me. On the fifth day, they come into the room and start talking. They are talking about a ransom. They want money, but I know I am negotiating for my life. They have orders to kill me. I had to stay calm, level-headed." - JAASIM ABRIHYM Kidnapping victim
Go to Original Article >>>
The views expressed herein are the writers' own and do not necessarily reflect those of Looking Glass News. Click the disclaimer link below for more information.
Email: editor@lookingglassnews.org.