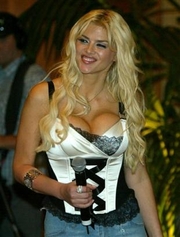 One of America's most outrageous personalities and Playboy Playmate of the Year, Anna Nicole Smith arrives at a press conference for the Australia MTV awards in Sydney, Wednesday, March 2, 2005. Ozzy Osbourne and his dysfunctional family will host the first MTV Australian Video Awards on Thursday, March 3, 2005 with Anna Nicole Smith playing the role of presenter. (AP Photo/Rob Griffith)
Playboy playmate Anna Nicole Smith has an unusual bedfellow in the Supreme Court fight over her late husband's fortune: the Bush administration.
The administration's top Supreme Court lawyer filed arguments on Smith's behalf and wants to take part when the case is argued before the justices.
The court will decide early next year whether to let the U.S. solicitor general share time with Smith's attorney during the one hour argument on Feb. 28.
Smith, a television reality star and native Texan, plans to attend the court argument.
She is trying to collect millions of dollars from the estate of J. Howard Marshall II, the oil tycoon she married in 1994 when he was 89 and she was a 26-year-old topless dancer in Houston. Marshall died in 1995.
Like Marshall, President Bush was a Texas oil man. Both attended Yale. Both held government positions in Washington.
There are differences. Marshall had a penchant for strippers, and the court record before the justices is one of poverty, greed, sex and family rivalry.
A federal bankruptcy judge sided with Smith in the fight over her late husband's estate, awarding her $474 million. That was reduced to about $89 million by a federal district judge, then thrown out altogether by a federal appeals court.
The issue before the high court is one only lawyers would love: when may federal courts hear claims that involve state probate proceedings. Smith lost in Texas state courts, which found that E. Pierce Marshall was the sole heir to his father's estate.
The Bush administration's filings in the case are technical. Without getting into the details of the family squabble, Solicitor General Paul Clement said that the justices should protect federal court jurisdiction in disputes.
Filings are due next month by groups backing E. Pierce Marshall.
Go to Original Article >>>
The views expressed herein are the writers' own and do not necessarily reflect those of Looking Glass News. Click the disclaimer link below for more information.
Email: editor@lookingglassnews.org.