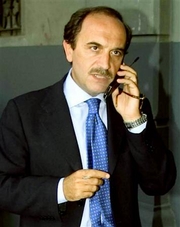 Italian intelligence officer Nicola Calipari speaks on a mobile phone in an undated file photo. Italian magistrates have placed a U.S. marine under official investigation for murder over the killing of Calipari in Iraq earlier this year, judicial sources said on Thursday. (Stringer/Reuters)
A U.S. soldier is being investigated for his alleged role in the March killing in Baghdad of an Italian secret service agent, who had just secured the release of a journalist held hostage, a prosecutor and news reports said Thursday.
Rome prosecutors are investigating the March 4 death of Nicola Calipari, who was killed by U.S. gunfire near a checkpoint as he headed to the Baghdad airport with Italian journalist Giuliana Sgrena, who was held hostage by militants for a month.
Prosecutor Franco Ionta confirmed reports in Italian news agencies ANSA and Apcom that the soldier is being investigated, but he refused to discuss details. The reports said prosecutors are considering charging the soldier with murder. Prosecutors did not identify the soldier, who is believed to be the only one to fire at the car.
According to Apcom, prosecutors also are considering attempted murder charges concerning the other two people in the car: Sgrena and a second secret service agent, who was driving. Both were wounded.
The U.S. Embassy in Rome declined to identify the soldier or comment on the report.
In Washington, U.S. State Department spokesman Sean McCormack said, "This was a tragic situation, but as far as we are concerned, the matter is closed."
Rome and Washington issued separate reports on the killing, which has strained relations between the two countries.
The Italian government report, issued in May, blamed U.S. military authorities for failing to signal there was a military checkpoint ahead on the road. It also contended that stress, inexperience and fatigue played a role in the shooting.
The Americans insisted that the car, a rented Toyota Corolla, was going fast enough to alarm the soldiers. The Italians have said the vehicle was traveling slowly on the dark, rain-slicked road.
Police and ballistic experts assigned by Rome prosecutors to examine the car have concluded the Toyota was traveling slower than the U.S. military claimed. However, they agreed with U.S. findings that only one soldier fired at the car.
The shooting angered Italians, already largely opposed to the war in Iraq, and led many to step up calls for withdrawing the Italian contingent. Premier Silvio Berlusconi, who sent some 3,000 troops to Iraq after Saddam Hussein's ouster, insisted the incident would not affect troop levels or Italy's friendship with Washington.
Berlusconi met with U.S. Ambassador Ronald Spogli on Thursday, but the Calipari shooting was not discussed, Foreign Minister Gianfranco Fini told Apcom.
Go to Original Article >>>
The views expressed herein are the writers' own and do not necessarily reflect those of Looking Glass News. Click the disclaimer link below for more information.
Email: editor@lookingglassnews.org.