Editor's Comment: The way in which the corporate media (in this case, the BBC) presents Bolivia's candidates and elections in general for Sunday's presidential elections is interesting. For example, they open the article by describing the frontrunner, Evo Morales as a "nightmare" and lead their story by stating that he promises to legalize the growing of coca "which has traditional uses but is also used in the production of cocaine." The BBC presents Morales' opponent, Jorge Quiroga as "... a US-educated engineer [who] has called for a "zero coca" policy ... A former World Bank and International Monetary Fund consultant [who will] concentrate on getting Bolivia's foreign debt cancelled [who could] lead Bolivia forward [who will lead on] the road forward to progress [to] jobs ... open markets ... building new highways."
What BBC leaves out of their presentation of Evo Morales are the valid arguments for legalization of the growing of coca and Morales' courageous fight for the indigenous people to take back their natural resources (e.g. gas and water) from the grip of the neoliberals and transnational corporations who have kept them in poverty for the last century. The corporate media chooses to portray Quiroga in more favorable terms - Jorge Quiroga - who was a U.S.-backed president of Bolivia in the past, but now promises to use his former position as a consultant to the World Bank and IMF to cancel Bolivia's debt. The question begs: If he didn't do it when he was president before, why and how would he do it now? This is another example of the arrogance of the ruling class and their disdain for the indigenous people to whom the land belongs more than any other.
The problem for the U.S. backed oligarchy in Bolivia is that the indigenous people have steadily become more educated and understand as never before what their puppet governments have done to them. This can be seen most clearly in the popular protests against President Mesa last summer when they ran him out of office. In Bolivian presidential elections, the winner must receive more than 50% of the vote. There are reasons why the previous corrupt governments have enacted this measure. If a candidate does not receive more than 50% of the votes, the national congress selects the president. If Evo Morales fails to achieve more than 50% of the vote in this election (as the BBC predicts) ... and the congress selects a candidate who receives fewer votes than Morales - what do the oligarchs think the indigenous people will do? Forget about last summer?
These textual comparisons of the 2 candidates by the BBC are only topped by the photographs used to portray Morales and Quiroga. - Les Blough, Editor , Axis of Logic
--------------------------------------------------------------------------------
Bolivia candidate 'US nightmare'
Friday, 16 December 2005
(Axis of Logic comment: Notice how the BBC chooses to portray Evo Morales in the photo [left]-"graffiti & rabble". Compare with their photo further down the page of the U.S.-Backed Jorge Quiroga as a well-presented candidate - LMB)
The leftist front-runner for Sunday's election in Bolivia, Evo Morales, has ended his campaign saying his movement is "a nightmare for the United States".
Mr Morales has vowed to end free-market policies and legalise the growing of coca, which has traditional uses but is also used in the production of cocaine.
His main rival, the conservative Jorge Quiroga, ended his campaign promising to create jobs and prosperity.
Bolivia has had five presidents in four years and is a deeply divided nation.
It is currently governed by interim President Eduardo Rodriguez, who took office after Carlos Mesa was ousted amid popular protests.
US line
Eight candidates are running in Sunday's election.
Polls suggest that Mr Morales - an Aymara Indian who is hoping to become the country's first indigenous head of state - has a slight lead over Mr Quiroga, a former president.
However, Mr Morales appears unlikely to obtain 50% of the vote, meaning that congress will have to choose a president between the two top candidates in January.
On Thursday, he told a large crowd in the city of Cochabamba that it was time for those humiliated by history to run the country, the poorest in South America.
Washington has said it expects any future Bolivian government to honour previous commitments to fight the production of illegal drugs.
Mr Quiroga, a US-educated engineer, has called for a "zero coca" policy.
'Open markets'
A former World Bank and International Monetary Fund consultant, Mr Quiroga has said he will concentrate on getting Bolivia's foreign debt cancelled.
He told supporters in the wealthy eastern city of Santa Cruz that only his party could lead Bolivia forward.
"In this election there are two highways to choose: the highway that leads backward, that drains our resources and keeps us in underdevelopment," he said.
"Then there is the road that we want to take, the road that leads forward to progress. First we want jobs, we want to open markets, we want to build new highways."
Bolivians are also due on Sunday to elect a new congress and new prefects, or governors, in all of the country's nine departments.
http://news.bbc.co.uk/2/hi/americas/4534332.stm
--------------------------------------------------------------------------------
Editor's Note: The accuracy of this BBC "Election's Guide" (below) cannot be known. However, of three things we can be certain:
Politics in Latin America are more dynamic today than at any time in the century past.

The indigenous movements against imperialism are the most significant force behind a movement toward a new Latin America.

Control of the media will be a key factor in coming elections.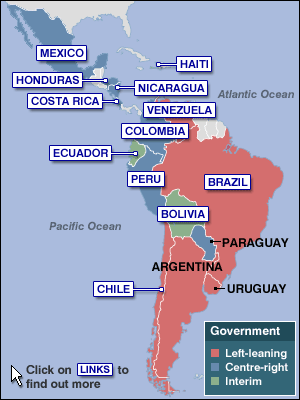 Go to Original Article >>>
The views expressed herein are the writers' own and do not necessarily reflect those of Looking Glass News. Click the disclaimer link below for more information.
Email: editor@lookingglassnews.org.