Police used chemical spray on protesters led by radical Korean farmers as they tried to storm the first day of World Trade Organisation talks in Hong Kong yesterday.
Despite fears of a repeat of violence which has marked previous WTO summits, a rally by some 5,000 anti-globalisation demonstrators, ranging from Indonesian maids to Danes dressed as cows, was largely peaceful.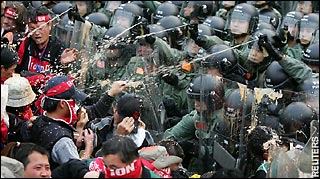 Up to 1500 Korean farmers clashed with police
But some members of the Korean Peasants League, who campaign for farm protection to be maintained, tried to break a police cordon.
Police lines were quickly reinforced and beat the protesters back with spray.
Two officers and six protesters, including Hong Kong's best-known activist, "Long-hair" Leung Kwok-hung, were slightly injured.
A more dramatic attempt to pass the miles of police and fencing in the Hong Kong Convention Centre saw protesters try to swim past the security cordon.
Highly organised squads of Korean farmers took turns to leap into Victoria Harbour, wearing shorts and lifejackets, shouting "down with WTO".
Most circled police launches cautiously but some tried to swim towards the centre before being turned back.
Last night, their leader, Park Min-ung, said the 1,500 Korean farmers in Hong Kong would not give up trying to present their case.
"We will try again tomorrow and the day after even if the police try to stop us with their shields and clubs," he said.
WTO summits in Seattle in 1999 and Cancun in 2003 broke up early without resolution as police fought battles with protesters outside.
The widespread predictions that the latest talks will fail in any case, without the help of violence, has lowered the temperature.
Among the European demonstrators were Danes dressed as cows in protest at subsidies from the common agricultural policy.
Each cow in the EU receives two dollars a day from CAP, while more than a billion people in the world live on half that.
Many of the countries represented, such as Taiwan, Thailand, Hong Kong and South Korea are among those who have gained most from world trade in the past 30 years. Farmers say this has been won at the
Go to Original Article >>>
The views expressed herein are the writers' own and do not necessarily reflect those of Looking Glass News. Click the disclaimer link below for more information.
Email: editor@lookingglassnews.org.