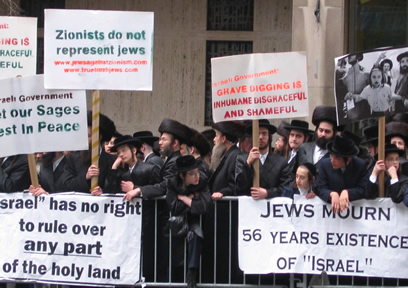 If you happened to be passing by the Israeli Consulate yesterday afternoon you most surely would have been shocked by the unusual sight that greeted your eyes: a group of over 10,000 Orthodox Jews who were protesting against the actual existence of the state of Israel. Behind them hung large posters showing the beating of Orthodox Jews by Israeli police while they were protesting the desecration of antiquated Jewish cemeteries which are in the path of a planned highway expansion.
The shocking sight didn't stop there. When you studied their signs and looked at the picture posters a shocking new world was revealed. Tens of thousands of religious Jews are protesting in the streets of Jerusalem against the state of Israel stating that the state of Israel, according to the Torah (that is the Jewish teachings) is illegitimate. They state that since the time that God sent the Jews into exile with the destruction of the temple two thousand years ago the Jews were forbidden to have their own state and that the whole concept of Zionism and the creation of the state of Israel was formed by irreligious Jews contrary to the Torah and the opinion of almost all of the Rabbinical leaders of Judaism worldwide.
The posters showed beaten and bloodied Rabbis sprawled on the ground cowering before Israeli police with stun guns and batons in their hands. Other posters showed old and young men alike being dragged on the ground and being piled into paddy wagons to be taken to Israeli prisons. Still other graphic pictures showed the excavated graves and bones spread over the ground; quite a shocking sight.
The signs that the protesters held read:
Israel has no right to rule over any part of the Holy Land Jews Mourn 56 years existence of "Israel"
Zionists do not represent Jews
Let our Sages rest in Peace
Israeli Government: Grave Digging is inhumane, disgraceful and shameful Zionism stole the name of Jews Oh No!
Zionism will never succeed Rabbinical Leaders fought Zionism since its inception
True Jews will never recognize Israel
Israel does not represent world Jewry
Dissolve the Zionist State
Authentic Rabbis always opposed Zionism and the State of Israel
Other demonstrations were held in Montreal, Canada and London, England.
For further information and photographs of these activities visit our website at www.nkusa.org

Go to Original Article >>>
The views expressed herein are the writers' own and do not necessarily reflect those of Looking Glass News. Click the disclaimer link below for more information.
Email: editor@lookingglassnews.org.