Cheney's January 2005 trip to Poland to mark the liberation of Auschwitz-Birkenau concentration camp may have had a side trip.

Informed sources in Washington report that when Dick Cheney flew to Poland for the 60th anniversary ceremonies marking the liberation of the Auschwitz-Birkenau concentration camp last January, his three day visit also included a clandestine visit to a secret CIA camp in Poland where suspected "Al Qaeda" prisoners were being subjected to torture. Cheney was in Poland from January 26 to 28. The Auschwitz solemn ceremonies were on January 27. On January 26, Cheney held talks in Krakow with Polish President Aleksander Kwasniewski and Ukraine's President Viktor Yuschenko and he visited the Galicia Jewish Museum.
Poland and Ukraine have been identified by U.S. intelligence sources as the location for secret CIA prisons and airfields. In the case of Ukraine, an intelligence source personally witnessed the defense and intelligence contractor Raytheon providing the logistics for Soviet-era airfields to handle the prisoner flights.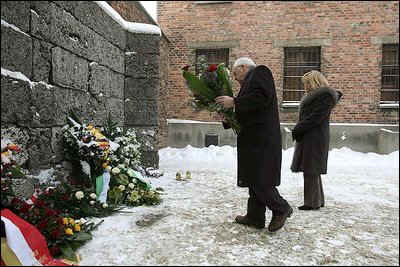 The Cheney detour allegedly took place on Friday, January 28, after he paid a quick visit to the Auschwitz camp and wrote in the guest book "may the evils committed here never again darken our world." Cheney's personal party included his wife Lynne Cheney; his daughter Elizabeth Cheney, and Lewis "Scooter" Libby. Two weeks after the Polish visit, Elizabeth Cheney, who served as Deputy Assistant Secretary of State for Near Eastern Affairs from 2002 to 2003, was named by Secretary of State Condoleezza Rice as Deputy Assistant Secretary of State for Near Eastern Affairs and Coordinator for Broader Middle East and North Africa Initiatives.
There is particular interest being focused on Lynne Cheney's former colleague at the American Enterprise Institute, Radek Sikorski, Poland's new Defense Minister under its center-right government and a former Deputy Defense Minister who may have served as a liaison between Cheney and Donald Rumsfeld's Pentagon on the establishment of the secret prison network in Poland. It is interesting to note that former CIA director Adm. Stansfield Turner referred to Dick Cheney as the "Vice President for torture." Cheney's and his family's active involvement in overseeing the establishment of secret prisons in Poland may have been what Turner, who obviously still talks to CIA insiders, was referring to.
Although Cheney's Air Force Two Boeing 757 left Krakow ahead of the plane carrying special guests, it arrived at Andrews Air Force Base after the guest plane arrived. It was claimed that Air Force Two had to stop for refueling -- a cover story to hide the fact that it had made another stop so Cheney could visit one of the secret CIA Polish prisons. Poland is now reported to have had the largest number of CIA prisons in eastern Europe. Cheney and Libby's detour may have been to Stare Liejkuty, a secretive and heavily guarded intelligence facility near Szczytno-Szymany in northeastern Poland. There is one recorded CIA flight to Szczynto-Szymany airport -- a Boeing 737 operated by a CIA front company whose September 2003 route took it from Washington, DC to Prague Ruzyne Airport; Tashkent, Uzbekistan; Kabul, Afghanistan; Szczytno-Szymany; Mihail Kogalniceanu, near Constanta, Romania; Sale, Morocco, and Guantanamo Bay, Cuba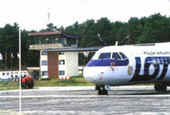 Szczynto-Szymany airport: capable of handling large planes like Cheney's Boeing 757.
Oddly, Cheney's motorcade in Poland, all flown from the United States, had a special decontamination vehicle accompanying it to the location of the camp that once masked gas chambers as decontamination units for incoming prisoners.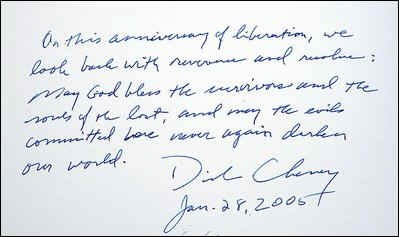 Cheney's note in Auschwitz memorial book: "On this anniversary of liberation, we look back with reverence and resolve: May God bless the survivors and the souls of the lost, and may the evils committed here never again darken our world."
Heinrich Himmler on his Polish camp tour, Cheney on his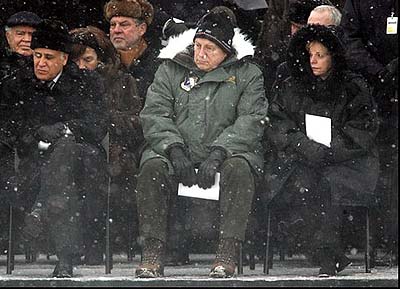 Go to Original Article >>>
The views expressed herein are the writers' own and do not necessarily reflect those of Looking Glass News. Click the disclaimer link below for more information.
Email: editor@lookingglassnews.org.