Lester Roloff (Texas Homes for Wayward Youth)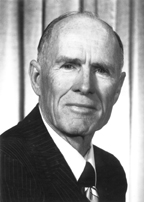 "Better a pink bottom than a black soul."*
*Roloff opened a chain of homes for "wayward" youth in the state of Texas; he was later jailed in 1973 and again in 1975 for child abuse due to the punitive punishment techniques used in his homes. He would have been finished had he not of been specifically given permision to re-open his homes by, you guested it, Governor George W Bush.
--------------------------------------
Lt. Gen. William G. Boykin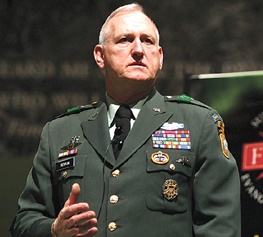 "George Bush was not elected by a majority of the voters in the United States, he was appointed by God."
-----------------------------------------
Pat Buchanan (Presidential Candidate)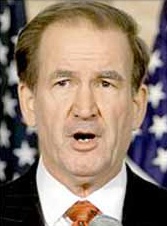 "Our culture is superior. Our culture is superior because our religion is Christianity and that is the truth that makes men free."
"There were no politics to polarize us then, to magnify every slight. The "negroes" of Washington had their public schools, restaurants, bars, movie houses, playgrounds and churches; and we had ours."
"Rail as they will about 'discrimination,' women are simply not endowed by nature with the same measures of single-minded ambition and the will to succeed in the fiercely competitive world of Western capitalism."
----------------------------------------
Pat Robertson (Christian Coalition)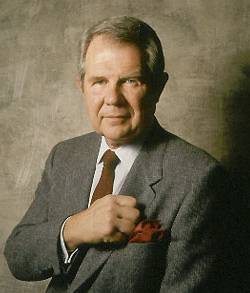 "The Islamic people, the Arabs, were the ones who captured Africans, put them in slavery, and sent them to America as slaves. Why would the people in America want to embrace the religion of slavers."
"Just like what Nazi Germany did to the Jews, so liberal America is now doing to the evangelical Christians. It's no different...More terrible than anything suffered by any minority in history."
"When lawlessness is abroad in the land, the same thing will happen here that happened in Nazi Germany. Many of those people involved with Adolph Hitler were Satanists, many of them were homosexuals – the two things seem to go together."
"The feminist agenda is not about equal rights for women. It is about a socialist, anti-family political movement that encourages women to leave their husbands, kill their children, practice witchcraft, destroy capitalism, and become lesbians."
"You say you're supposed to be nice to the Episcopalians and the Presbyterians and the Methodists and this, that, and the other thing. Nonsense, I don't have to be nice to the spirit of the Antichrist."
"I know this is painful for the ladies to hear, but if you get married, you have accepted the headship of a man, your husband. Christ is the head of the household and the husband is the head of the wife, and that's the way it is, period."
"[Homosexuals] want to come into churches and disrupt church services and throw blood all around and try to give people AIDS and spit in the face of ministers."
"[Planned Parenthood] is teaching kids to fornicate, teaching people to have adultery, every kind of bestiality, homosexuality, lesbianism – everything that the Bible condemns."
-----------------------------------------------
Patrick Mahoney (Christian Defense Coalition)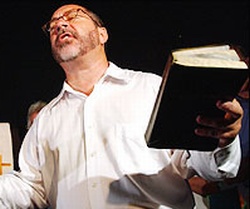 "It is deeply troubling to have an appointed, unelected commission remove an elected official from office [Roy Moore]. The Court of Judiciary has overturned an election and crushed the democratic process through their actions."*
*Interesting perspective coming from someone who's President was appointed by a group of "unelected judges", thus overturning a democratic election.
---------------------------------------------
Paul Cameron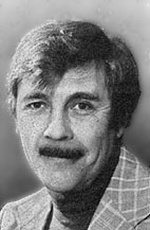 "I think that actually AIDS is a guardian. That is I think it was sent, if you would, about forty years ago, to destroy Western civilization unless we change our sexual ways. So it's really a Godsend."
"Homosexuality is a crime against humanity."
"Causes of homosexuality include: 'sex with animals'"*
"Unless we get medically lucky, in three or four years, one of the options discussed will be the extermination of homosexuals."
*Paul Cameron was discharged from the American Psychological Association, the Nebraska Psychological Association, and the American Sociological Association due to his unethical practices and biased research regarding Homosexuals. His "research" has since been discredited by the scientific community; however his work is still referenced by many fundamentalist organizations as credible.
-------------------------------------------
Randall Terry (Operation Rescue)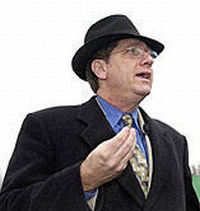 "I want you to just let a wave of intolerance wash over. I want you to let a wave of hatred wash over you. Yes, hate is good...Our goal is a Christian nation. We have a biblical duty, we are called by God to conquer this country. We don't want equal time. We don't want pluralism."
"Our goal must be simple. We must have a Christian nation built on God's law, on the ten Commandments. No apologies."
"I don't think Christians should use birth control. You consummate your marriage as often as you like – and if you have babies, you have babies."
"When I, or people like me, are running the country, you'd better flee, because we will find you, we will try you, and we'll execute you. I mean every word of it. I will make it part of my mission to see to it that they are tried and executed."*
"There is going to be war, [and Christians may be called to] take up the sword to overthrow the tyrannical regime that oppresses them."
*It is interesting to note that Randell Terry's son is Gay
----------------------------------------------
Jerry Vines (Southern Baptist Convention)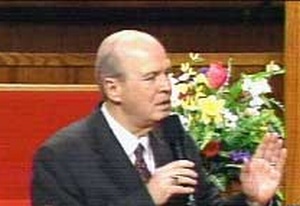 "They would have us believe that Islam is just as good as Christianity. Christianity was founded by the virgin-born son of God, Jesus Christ. Islam was founded by Muhammad, a demon-possessed pedophile who had 12 wives, the last one of which was a nine-year-old girl."
---------------------------------------------
Rick Santorum (Sen. R-PA)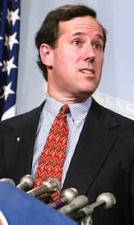 "If the Supreme Court says that you have the right to consensual [Gay] sex within your home, then you have the right to bigamy, you have the right to polygamy, you have the right to incest, you have the right to adultery. You have the right to anything!"
--------------------------------------------
Robert Simonds (Citizens for Excellence in Education)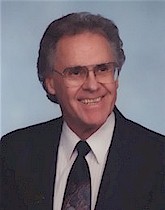 "As the church watches from the sidelines, the ungodly elect atheists and homosexuals to school boards and legislatures to enact policies and laws that destroy our Christian children and discriminate against Christian families."
"Atheistic secular humanists should be removed from office and Christians should be elected...Government and true Christianity are inseparable."
"We'll take away their power and their money. Money comes from students. We'll break their backs by taking 24 million kids out of the public schools."
-----------------------------------------
Robert T. Lee (Society for the Practical Establishment of the Ten Commandments)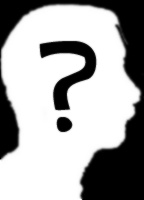 "Raising your children under Americanism or any other principles other than true Christianity is child abuse."
"You do not have the right to be wrong, regardless of what any man-made or demonic charter says."
"Democracy originated in the mind of a rational being who has the deepest hatred for God."
"Do you realize that the only thing that gives democracy existence is sin? The absence of democracy is perfect obedience to god."
"The best way to insure the earth is never over populated is for sensible and righteous governments to clear all forms of atheism and heresy."
----------------------------------------------------
Ronald Reagan (President of the United States)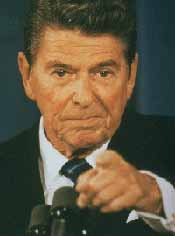 "For the first time ever, everything is in place for the Battle of Armageddon and the Second Coming of Christ."
-------------------------------------------------
Roy Moore (Former Alabama Judge)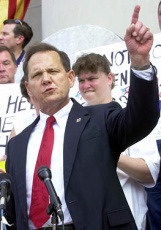 "If they want to get the Commandments, they're going to have to get me first."*
"Worship With Your Vote"
*Interesting observation of the Radical Right, Judge Roy Moore commits peaceful civil disobedience by refusing to remove the Ten Commandments Monument from the Court. He is considered a Hero. Mayor Gavin Newsom commits peaceful civil disobedience by issuing same-sex marriage licenses. He is considered an Anarchist.
------------------------------------------
Rush Limbaugh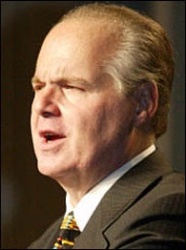 "Feminism was established to allow unattractive women easier access to the mainstream of society."
"If you commit a crime, you're guilty."*
"There is only one way to get rid of nuclear weapons... use them"
*Seems logical enough, doesn't it Rush?
------------------------------------------------
Star Parker (Coalition on Urban Renewal & Education)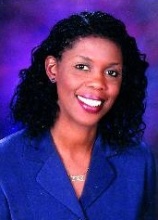 "Anybody that believes in separation of church and state needs to leave right now."
----------------------------------------------
Tony Evans (Promise Keepers)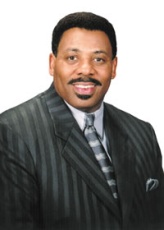 "The demise of our community and culture is the fault of sissified men who have been overly influenced by women."
-----------------------------------------------
William Rehnquist (Chief Justice of the U.S. Supreme Court)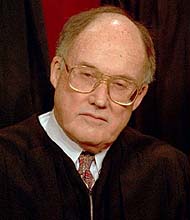 "The 'wall of separation between church and state' is a metaphor based on bad history, a metaphor which has proved useless as a guide to judging. It should be frankly and explicitly abandoned."
------------------------------------------------
Michael Savage (Savage Nation)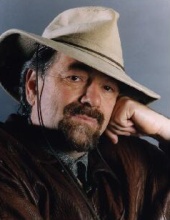 "Oh, you're one of the sodomites. You should only get AIDS and die, you pig. How's that? Why don't you see if you can sue me, you pig. You got nothing better than to put me down, you piece of garbage. You have got nothing to do today, go eat a sausage and choke on it."*
*Statement made on live national television
___________________________________
Read from Looking Glass News
Quotes from the The American Taliban: Part 1
http://www.lookingglassnews.org/viewstory.php?storyid=3906
Go to Original Article >>>
The views expressed herein are the writers' own and do not necessarily reflect those of Looking Glass News. Click the disclaimer link below for more information.
Email: editor@lookingglassnews.org.