Chanting "No! No to terrorism!" and "No! No to America," thousands of supporters of a radical Shiite cleric who once led uprisings against U.S. troops called Saturday for American forces to withdraw from Iraq, staging a massive protest at the same square where two years ago to the day protesters pulled down a towering statue of ousted Saddam Hussein.
The protest reflected frustration with the U.S. government, which is slowly handing security responsibilities to Iraqi forces two years after taking control of Baghdad. U.S. officials have said they won't set a timetable for withdrawal, promising to stay until Iraqi forces are able to secure the country.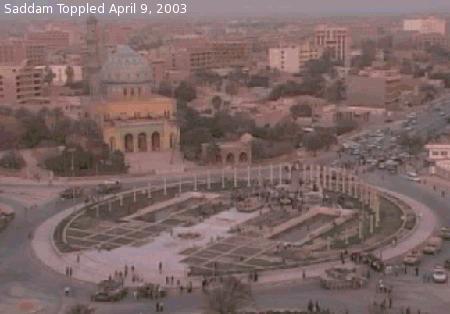 The popular support as the Saddam statue was pulled down 2 years ago, or lack there of.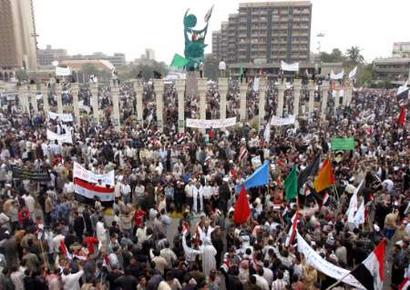 Thousands of Iraqi Shi'ites loyal to cleric Moqtada al-Sadr hold a demonstration in Baghdad's Firdos Square April 9, 2005 where a statue of former Iraqi president Saddam Hussein was pulled down by Iraqis and American soldiers two years ago.[Reuters]
The supporters of radical Shiite cleric Muqtada al-Sadr, whose Mahdi Army militiamen signed truces last year with U.S.-led forces, filled Firdous Square and spilled into nearby avenues, waving Iraqi flags and burning effigies of U.S. President George W. Bush, British Prime Minister Tony Blair and Saddam.
Protesters carried the coffin of a senior al-Sadr official who was gunned down late Friday in Baghdad. Two others were wounded in the ambush on their car.
U.S. and Iraqi security forces kept a close eye on the march, with U.S. soldiers standing behind blast walls and armed soldiers watching from rooftops.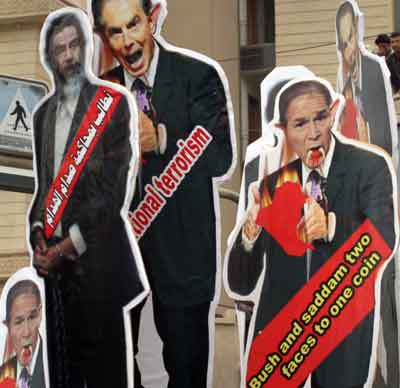 Iraqi Shi'ites loyal to cleric Moqtada al-Sadr hold cut-outs of British Prime Minister Tony Blair (C), former Iraqi president Saddam Hussein (L), and U.S. President George W. Bush during a protest rally in Baghdad April 9, 2005. The rally was called on the second anniversary of the fall of Baghdad with protestors demanding an end to the U.S. military presence in Iraq and a speedy trial for former president Saddam Hussein. [Reuters]

Al-Sadr had stayed out of the limelight since leading failed uprisings last year in the southern city of Najaf and Baghdad's Sadr City neighborhood.

But he has stepped up criticism of the United States in recent weeks, mainly by organizing Saturday's protest, which he hoped would draw a crowd of 1 million people.

Officials organized the demonstration with the Iraqi Interior Ministry's promise of protection. A group of protesters and police spent all night securing the square.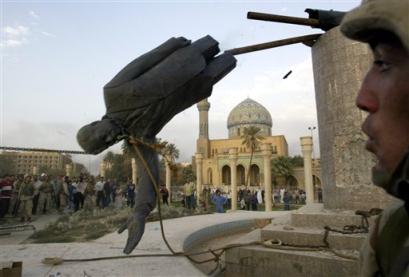 The toppled statue of Saddam Hussein is seen in Firdos Square downtown Baghdad in this April 9, 2003 file photo. [AP/file]

Roads in central Baghdad were closed to traffic as streets filled with people.

Sunni Muslim clerics also called on their followers to protest on the two year anniversary of the fall of Baghdad, but a senior official in the influential Association of Muslim Scholars, Jalil al-Shemari, said their followers would not be joining in the rally at Firdous Square. He would not say where or if his followers would protest.

Other marches were held across the country to demand that the United States set a timetable for its withdrawal.



Go to Original Article >>>



The views expressed herein are the writers' own and do not necessarily reflect those of Looking Glass News. Click the disclaimer link below for more information.
Email: editor@lookingglassnews.org.