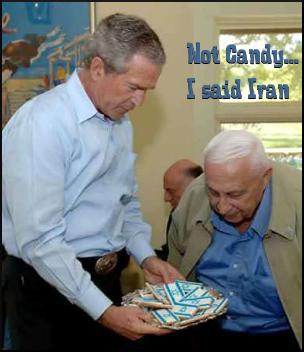 JERUSALEM - Ariel Sharon's military attache presented aerial photos of Iranian nuclear installations during the Israeli prime minister's summit with US President George W. Bush, Israeli public radio reported on Tuesday.

General Yoav Gallan, who accompanied Sharon to Monday's talks at Bush's Texas ranch, presented the photos as well as information gathered by the Israeli intelligence services on Teheran's nuclear programme.

The radio, which did not give details on how the photos were taken, said the images proved that the Iranian nuclear programme was at a "very advanced" stage.

White House spokesman Scott McClellan confirmed the two leaders had "talked about their shared concern about Iran's intentions with their nuclear programme" but denied they had discussed the possibility of a preemptive military strike by Israel, aimed at ensuring Iran does not acquire atomic weapons.

The United States and Israel have both accused Iran of using its atomic energy programme as cover for a plan to develop nuclear arms, a charge denied by Teheran, which says it needs nuclear power as an alternative energy source.

Israel itself has never publicly acknowledged that it maintains a nuclear arsenal but foreign experts say it has between 100 and 200 nuclear warheads.




Go to Original Article >>>



The views expressed herein are the writers' own and do not necessarily reflect those of Looking Glass News. Click the disclaimer link below for more information.
Email: editor@lookingglassnews.org.