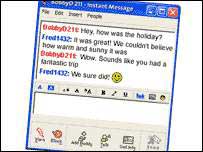 Instant messaging is much like a regular conversation
Microsoft and Yahoo are linking up their free instant messaging services, giving the two extra muscle to compete against market leader AOL.
The Yahoo-Microsoft partnership allows users of the two services to exchange messages instantly.
The tie-up is the first major alliance between two of the internet's main providers of instant messaging (IM).
Yahoo chief executive Terry Semal said the deal was "a turning point for the IM industry".
Instant messaging has taken off because it allows people to communicate quickly and seamlessly over the internet.
Some providers also offer other goodies such as video chatting and internet telephone functions.
Market challenge
This is the first time two of the top instant messaging systems have communicated directly with each other. Before now, 'interoperability' was restricted to users within each separate service.
California-based Microsoft already has a product allowing business users to communicate with Yahoo and AOL through IM but the facility is not available to ordinary consumers.
"IM interoperability is the right thing for our customers, our businesses and the industry as a whole, and Microsoft is delighted to help lead these efforts with Yahoo," said Microsoft's chief executive Steve Ballmer.
US based AOL - owned by media giant Time Warner - is currently the market leader in instant messaging with a 56% market share, according to research firm Radicati.
But Microsoft and Yahoo's allegiance could be a formidable threat to AOL's dominance.
"Up until now, AOL has been able to pick and choose its partners, command the royalties it wants," said Robert Mahowald, an analyst at research firm IDC.
"They've moved to develop this market at their own pace. This forces them to take a more aggressive stance."
Go to Original Article >>>
The views expressed herein are the writers' own and do not necessarily reflect those of Looking Glass News. Click the disclaimer link below for more information.
Email: editor@lookingglassnews.org.