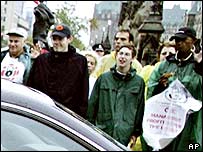 Workers have been locked out for the past 50 days
Canada's public broadcaster CBC has reached a tentative deal with its biggest union to end a long-running lockout affecting 5,500 employees.
Some details have still to be worked out, a spokeswoman for the Canadian Media Guild, Karen Wirsig, has said.
CBC locked out unionised journalists, producers and technicians seven weeks ago, in a dispute over the hiring of contract workers.
Managers and non-union staff have been maintaining a reduced news service.
Political pressure
"Canadians want their national broadcaster back," CBC president Robert Ravinovitch said in a statement issued early on Monday.
"The last seven weeks have been difficult for all involved but now we have an agreement that equips us to serve Canadians as a public broadcaster should."
The union has said the picket lines will remain in place until the deal - which has to be ratified by the members of the guild - is finalised.
"I think our members are going to want to look hard at any tentative agreement," television producer Kamala Rao was quoted as saying by the Globe and Mail newspaper.
The latest negotiations have been taking place in the office of Labour Minister Joe Fontana in Ottawa, where political pressure for a settlement has been growing.
The dispute has centred on moves to fill more positions with contract workers rather than full-time employees and redundancy provisions.
Go to Original Article >>>
The views expressed herein are the writers' own and do not necessarily reflect those of Looking Glass News. Click the disclaimer link below for more information.
Email: editor@lookingglassnews.org.