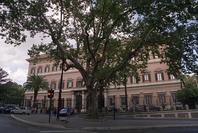 The operation is thought to have been led by an agent working in the US embassy in Rome
Prosecutors in Italy have issued three more arrest warrants over the kidnapping of an Egyptian imam based in Milan by a team of CIA agents. Among those wanted in connection with the operation, which led to the man - Abu Omar - being tortured in Egypt, is a 38-year-old female CIA agent who was working as a diplomat at the US embassy in Rome and is said to have led the operation.
Betnie Medero, who was second secretary at the embassy until a few months ago, is one of 22 CIA agents now wanted by Italian police over the kidnapping, which happened in a street in Milan on 17 February, 2003. Medero arrived in Italy in August 2001 with diplomatic accreditation and oversaw the operation, Italian newspaper Corriere della Sera reports. On Thursday police entered her house in Rome but found it deserted. She is believed to currently be at the US embassy in Mexico City.
Omar was kidnapped in a clandestine 'extraordinary rendition' operation, a practice used regularly by the US, where they capture and deport foreign terror suspects without any trial to countries where they could be tortured.
Omar had already been under surveillance by Italian police, suspected of having links with terrorist groups and recruiting young people to be used as martyrs in Iraq. According to Italian and American intelligence he also fought in Afghanistan and Bosnia.
Milan investigating magistrates say Omar was first taken to the American Aviano air base in northern Italy and transferred to a military base at Ramstein in Germany, from where he was then flown to Egypt in a private plane hired by the CIA. Once there he was held at the high security Tora prison for more than a year and was released in April 2004 after collapsing and suffering partial paralysis as a result of the torture he was subjected to, Once free and despite being warned not to, Omar recounted his experience to a fellow Egyptian imam in Milan, in a phone call tapped by the Italian police. He said he had been beaten to the point where he could hardly move his legs and had been tortured with electric cables. Then nothing more was heard of him until new information emerged in June this year that he is back in Tora prison.
The two other CIA agents now wanted by Italian police have been named as 55-year-old Vincent Faldo and 57-year-old Thomas Harbison. Both are US citizens whose American passports have turned out to be authentic. Many of the other agents used false identities, created by the CIA for such operations. Despite the 22 arrest warrants, none of those involved have been arrested and they are all thought to have left Italy.
Italian investigators working on the case have found images and documents they describe as "decisive", including a photograph of Abu Omar on the street where he was kidnapped, taken 33 days before he was taken. It was found in the computer of Bob Lady, the former head of the CIA station in Milan. He has been wanted since June 24 this year when he fled Italy. His wife deleted all the files on his computer, Corriere della Sera reports, but police have managed to rebuild the hard drive, and found evidence that he had run searches for the shortest route from the Milan street where Omar was kidnapped to Aviano. A list of the luxurious hotels in Milan the agents accused of being involved in the kidnapping stayed in was also found in the rubbish bin in his garage.
Evidence has also been uncovered that Lady was in Cairo during the two weeks when Omar is said to have suffered the most violent interrogation. Investigators tracked down two airplane tickets showing that he flew to Cairo from Zurich on 24 February 2003, and returned to Italy on 7 March.
While the Bush administration has publically defended the extraordinary rendition practice, it has always denied complicity in any torture the suspect may later have suffered in the country he was sent to. The Italian government and intelligence services say they were never informed of the kidnap operation and did not authorise it.
Go to Original Article >>>
The views expressed herein are the writers' own and do not necessarily reflect those of Looking Glass News. Click the disclaimer link below for more information.
Email: editor@lookingglassnews.org.