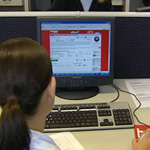 Web log: The European Commission wants to keep track of internet traffic
The European Commission has adopted proposals to log details of all telephone, Internet, and e-mail traffic, to combat terrorism and serious crime.
The push for EU-wide data storage came after the Madrid bomb attacks last year, and intensified after the London bomb attacks in July, when Britain took over the rotating EU presidency.
The Commission proposes storing data related to mobile and fixed telephone traffic for a year, to allow the police to trace the time, place, and numbers used.
Internet data such as e-mails would be kept for six months.
The Commission's text aims to harmonise the current patchwork of data retention practices across the bloc.
The executive's Vice President Franco Frattini said the harmonisation will take into account the fundamental rights of security, the protection of private information, the interests of the police and concerns of industry.
The Commission's proposal will need to be agreed by member states and the European Parliament, while a rival plan will need unanimous agreement among the 25 EU governments.
The rival plan proposal envisages storing data between one and three years.
Some member states fear involving parliament will slow down legislation as EU lawmakers as seen as being more open to pressure from industry campaigners and civil liberties groups to water down the proposals.
Mr Frattini committed himself to a speedy process.
"I am dedicated to working on a co-decision basis with the European Parliament and the Member States in the Council, in particular its UK Presidency, to try to reach an agreement on this issue before the end of the year - counter terrorism effectively requires that we have no time to loose," he said in a statement.
A British presidency spokesman says that ministers will compare both proposals at a meeting in October and decide how to proceed.
There is no intention to store the content of communications.
Under the Commission proposal, telecom and Internet firms would be reimbursed for the "demonstrated additional costs", while Britain has said telecom firms are rich enough to pay the extra storage costs themselves.
Telecom firms say they already help the police with data requests on a case-by-case basis, but the Commission said that some traffic data is not always kept for billing purposes such as for flat rate tariffs, pre-paid and free services.
Go to Original Article >>>
The views expressed herein are the writers' own and do not necessarily reflect those of Looking Glass News. Click the disclaimer link below for more information.
Email: editor@lookingglassnews.org.