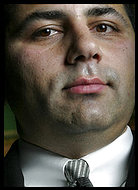 Procurement chief David H. Safavian was connected to probe of lobbyist Jack Abramoff
The Bush administration's top federal procurement official resigned Friday and was arrested yesterday, accused of lying and obstructing a criminal investigation into Republican lobbyist Jack Abramoff's dealings with the federal government. It was the first criminal complaint filed against a government official in the ongoing corruption probe related to Abramoff's activities in Washington.
The complaint, filed by the FBI, alleges that David H. Safavian, 38, a White House procurement official involved until last week in Hurricane Katrina relief efforts, made repeated false statements to government officials and investigators about a golf trip with Abramoff to Scotland in 2002.
It also contends that he concealed his efforts to help Abramoff acquire control of two federally managed properties in the Washington area. Abramoff is the person identified as "Lobbyist A" in a 13-page affidavit unsealed in court, according to sources knowledgeable about the probe.
Until his resignation on the day the criminal complaint against him was signed, Safavian was the top administrator at the federal procurement office in the White House Office of Management and Budget, where he set purchasing policy for the entire government.
The arrest occurred at his home in Alexandria. A man who answered the phone there yesterday hung up when a reporter asked to speak to Safavian.
Abramoff was indicted by federal prosecutors in Miami last month on unrelated charges of wire fraud and conspiracy. He remains the linchpin of an 18-month probe by a federal task force that includes the Internal Revenue Service, the Interior Department and the Justice Department's fraud and public integrity units. His lawyer did not respond to phone calls seeking comment.
Abramoff's allegedly improper dealings with Indian tribes -- which netted him and an associate at least $82 million in fees -- prompted the federal probe. But investigators have found that his documents and e-mails contain a trove of information about his aggressive efforts to seek favors for clients from members of Congress and senior bureaucrats.
Accompanying Safavian and Abramoff on the 2002 trip to Scotland, for example, were Rep. Robert W. Ney (R-Ohio), chairman of the House Administration Committee, lobbyist and former Christian Coalition leader Ralph Reed and Neil Volz, a lobbyist with Abramoff at the Washington office of Greenburg Traurig.
Like Abramoff, Safavian is a veteran Washington player. He is a former lobbying partner of anti-tax crusader Grover Norquist and previously worked with Abramoff at another firm. Both he and Abramoff have represented gambling clients and Indian tribes with gambling interests.
At the time of the golf trip, Safavian was chief of staff at the General Services Administration, where ethics rules flatly prohibited the receipt of a gift from any person seeking an official action by the agency. When Safavian asked GSA ethics officers for permission to go on the trip, he assured them in writing that Abramoff "has no business before GSA," according to the affidavit signed by FBI special agent Jeffrey A. Reising.
Reising alleged, however, that Abramoff had by then already secretly enlisted Safavian in an effort to buy 40 acres of land that GSA managed in Silver Spring for use as the campus of a Hebrew school Abramoff founded. Safavian also allegedly tried to help Abramoff lease space for Abramoff's clients in an old post office building downtown.
On July 22, 2002, Abramoff sent Safavian an e-mail with a proposed draft letter that "at least two members of Congress" could send to GSA supporting the lease, according to the affidavit. "Does this work, or do you want it to be longer?" Abramoff asked.
Three days later, Safavian forwarded Abramoff an e-mail describing how an employee at OMB was resisting Abramoff's plan to lease space at the post office. "I suspect we'll end up having to bring some Hill pressure to bear on OMB," Safavian messaged Abramoff.
On the same day Safavian discussed the golf trip with the ethics office, he sent an e-mail to Abramoff from his home computer, advising him how to "lay out a case for this lease." Abramoff subsequently wrote in an e-mail to his wife and two officials of the school that Safavian had shown him a map of the property at his GSA office but had cautioned that Abramoff should not visit again "given my high profile politically."
Safavian nonetheless arranged a meeting for Abramoff's wife and business partner with officials at GSA on the day before he departed for Scotland aboard Abramoff's chartered jet. The trip cost more than $120,000 and was paid for mostly by a charity founded and run by Abramoff, the Capital Athletic Foundation.
When Safavian was questioned by The Washington Post about the trip in January, he said he paid his share of the expenses and took unpaid leave. "The trip was exclusively personal; I did no business there. . . . Jack is an old friend of mine," Safavian said.
But the complaint alleges that Safavian lied about his contacts with Abramoff on three occasions after his initial false pledge to the GSA ethics officer. The first was during a 2003 investigation by GSA's inspector general, who was responding to an anonymous tipster's hotline complaint; the second was in a March 17, 2005, letter to the Senate Committee on Indian Affairs; and the third was during an FBI interview on May 26, 2005.
Go to Original Article >>>
The views expressed herein are the writers' own and do not necessarily reflect those of Looking Glass News. Click the disclaimer link below for more information.
Email: editor@lookingglassnews.org.