More revelations emerge that Bush administration is protecting Osama Bin Laden. Intelligence sources are reporting that reports that Osama Bin Laden is seriously ill and requires medical attention are part of a neo-con disinformation campaign to divert attention away from the fact that the crafty "Al Qaeda" leader is never far away from his ex-U.S. Air Force T-39 twin engine Sabreliner, bought in 1993 from the Davis Monthan Air Force Base "boneyard" outside of Tucson, Arizona. The plane was purchased for $200,000 by Essam al Ridi to be used to ship missiles between Bin Laden's home base of Sudan and Pakistan. French intelligence documents show that in 1993 Bin Laden was still under "operational control" of U.S. and British intelligence. Furthermore, the plane sale was made to Bin Laden after National Security Agency intercepts of the Sudanese mission to the U.N. proved that two Sudanese diplomats were working with Bin Laden to bomb the World Trade Center in 1993.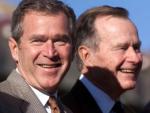 The Three Amigos: More details of Bin Laden and his U.S.-provided plane emerge
Bin Laden's Sabreliner was, according to an ex-CIA source, retrofitted at an ex-CIA base in Marana, Arizona by Evergreen International, an airline company with close ties to the CIA. Evergreen currently operates the base as the "Evergreen Air Center."
Bin Laden's Sabreliner is now reportedly secretly stashed at a Pakistani military airbase, which means that Bin Laden is in Pakistan with the knowledge of President Pervez Musharraf (and likely his close "ally" George W. Bush). The ex-CIA source also revealed that, as the late British Foreign Secretary Robin Cook revealed shortly before his untimely death, "Al Qaeda" is nothing more than a CIA list of arms dealers, mercenaries, drug dealers, and terrorists used by the United States and the Saudis in the Mujaheddin war against the USSR. One of the most notorious heroin and cocaine dealers was Mohammed Atta, the lead 911 hijacker and someone frequently used as a prized and reliable courier by U.S., British, and Saudi intelligence.
Go to Original Article >>>
The views expressed herein are the writers' own and do not necessarily reflect those of Looking Glass News. Click the disclaimer link below for more information.
Email: editor@lookingglassnews.org.