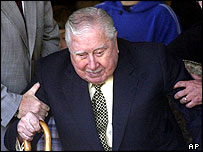 Gen Pinochet is accused of kidnapping and murdering political opponents
UK arms manufacturer BAE has paid over £1m to front companies for the Chilean General Augusto Pinochet, documents obtained by the Guardian show.
Three companies linked to Gen Pinochet were getting money from the UK defence giant as late as June last year.
The documents show that between December 1997 and October 2004 BAE paid $1,998,871 (£1.1m) in 14 payments.
BAE said it had "clear and rigorous policies" that governed its relationship with third parties.
The payments were made to Tasker Investments, Cornwall Overseas Corporation and Eastview Finance.
These companies were named in a US Senate report in March this year as conduits for payments to Gen Pinochet.
The last direct payment from BAE is alleged to have been on 30 June 2004, for $179,000 (£98,000).
Force role
General Pinochet seized power in a military coup in 1973, and it is alleged 3,000 people were killed or disappeared under his regime.
Pinochet remained head of the armed forces during Chile's transition to democracy.
Throughout the 1990s he visited Britain as a guest of BAE and in 1995 Chile bought a cluster bomb system from them.
In 1998, Pinochet was placed under house arrest in Britain after a Spanish court brought torture charges against him.
But he was released after the government decided he was not fit to stand trial.
General Pinochet is now currently facing trial in Chile. He was stripped of immunity on Wednesday on charges of the kidnap and murder of oppositionists.
New laws
The crucial information in these documents has been given to prosecutors by the US State Department.
But the allegations raise questions for BAE, as since 2002 it has been illegal for British companies to make corrupt payments to foreign nationals.
The company said in a statement: "We at BAE Systems have clear and rigorous policies which govern the conduct of our relationships with third parties. We require all our employees to adhere to these policies and comply with the law."
BAE is the lynchpin of the UK defence industry - the Department of Trade and Industry holds a golden share in the company to protect the national interest.
Last year, the BBC revealed BAE had been running a £60m slush fund to oil the wheels of a massive arms deal with Saudi Arabia.
That is currently the subject of an investigation by the Serious Fraud Office.
Go to Original Article >>>
The views expressed herein are the writers' own and do not necessarily reflect those of Looking Glass News. Click the disclaimer link below for more information.
Email: editor@lookingglassnews.org.