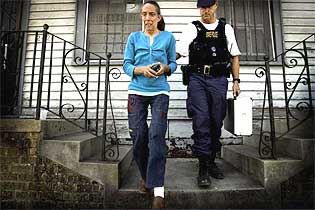 Armed police have begun to handcuff hurricane survivors who refuse to leave their homes in New Orleans.
As many as 10,000 people have stayed put in the devastated city despite orders to evacuate.
Many are now said to be going voluntarily, but others are being detained and taken to evacuation centres.
The job of carrying out Mayor Ray Nagin's forcible evacuation order has been left largely to the 1000 or so remaining members of New Orleans' police force.
Police Chief Eddie Compass insisted today that a "sensitive" approach was being used to remove people.
"We are not going to be rough," he said. "We are going to use the minimum amount of force."
Authorities have said the death toll in New Orleans alone could reach 10,000, and state officials have ordered 25,000 body bags.
Volunteer rescuer Gregg Silverman, part of a 14-boat contingent from Columbus, Ohio, said he expected to find many more survivors in the city's flooded streets. Instead, he found mostly bodies.
"They had me climb up on a roof, and I did bring an axe up to where a guy had tried to stick a pipe up through a vent," Silverman said.
"Unfortunately, he had probably just recently perished. His dog was still there, barking."
On other bodies his group encountered, he said: "Obviously we are not recovering them. We are just tying them up to banisters, leaving them on the roof."
The Army Corps of Engineers said today the city was still about 60 per cent flooded - down from as much as 80 per cent last week - but was slowly being drained by 37 of the 174 pumps in the Orleans, St Bernard and Plaquemines parishes, and 17 portable pumps. Together, they can move 11,000 cubic feet of water per second, roughly equal to 432 Olympic-size swimming pools per hour.
Engineers said the mammoth task could take months, and could be complicated by corpses getting clogged in the pumps.
Congress has approved a bill providing an extra £28 billion for the relief effort. The new funds will be used mainly to pay for search and rescue operations, drinking water and medical assistance.
Speaking at the White House, President George Bush said every family affected by Hurricane Katrina would receive the initial sum of £1000 in aid. He also declared Friday September 16 a national day of prayer and remembrance for Hurricane Katrina's victims.
Meanwhile, former Secretary of State Colin Powell said in a TV interview he couldn't understand why more preparations had not been made.
• Tropical Storm Ophelia strengthened into a hurricane today as it stalled 70 miles off the north-east Florida coast.
If it hits Florida, it would be the third hurricane to strike the state this year.
• A British scientist who was feared missing - along with his three children - in the aftermath of Hurricane Katrina is safe and well, his brother said today.
Nothing had been heard from Mike Noone, 51, who lives close to New Orleans. But a friend of his rang his brother Tom to say that he and the children were safe.
Go to Original Article >>>
The views expressed herein are the writers' own and do not necessarily reflect those of Looking Glass News. Click the disclaimer link below for more information.
Email: editor@lookingglassnews.org.