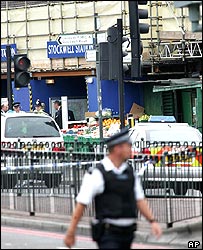 As leaked documents appear to throw new light on the mistaken shooting of Jean Charles de Menezes, BBC News Website looks at the passage of events which led to his death and what followed.
21 July: Two weeks after suicide bombs rocked London, the capital is again targeted
London's transport network is plunged into chaos with stations cleared after attempted bombings on Tube trains at Oval, Warren Street and Shepherd's Bush Underground stations and on a number 26 bus in Bethnal Green.
A manhunt is launched for four men suspected of attempting the bombings, later named as Yassin Hassan Omar, Ibrahim Muktar Said, Ramzi Mohamed and Osman Hussain.
22 July: Police have been monitoring a flat in Scotia Road, Tulse Hill, south London, which they believe is linked to the failed bombings.
At 0930 BST John Charles de Menezes, a 27-year-old Brazilian electrician, is seen walking to a bus stop and boarding a bus heading to Stockwell Tube station.
Despite initial reports he was wearing a padded coat, leaked papers suggest Mr de Menezes is in a light denim jacket.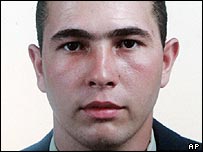 Mr de Menezes was shot seven times in the head and once in the shoulder
According to a leaked report officers believe his "description and demeanour" matches one of two terror suspects, including the alleged Shepherd's Bush would-be bomber Osman Hussain.
One surveillance officer at the Tulse Hill address says he "checked the photographs" and thinks it is "worth someone else having a look".
He is quoted in the leaked report saying that he was unable to transmit his observations and turn on his video camera at the same time. "I was in the process of relieving myself."
After information is passed through the operations centre, gold command instructs that the suspect be stopped from getting on the Tube.
The operation is moved to "code red tactic" and handed over to CO19.
By 1000 BST CCTV footage shows Mr de Menezes entering the Tube station at a "normal walking pace".
Early accounts of the shooting had described him vaulting over the ticket barriers, running to the Tube train and tripping over before being shot - but leaked evidence states that CCTV pictures show him picking up a free newspaper and slowly descending on an escalator.
He is then said to have run across the concourse to catch a train, boarded, looked left and right and then sat down on the first available seat.
At that point, armed officers are "provided with positive identification", the document says.
Following shouts including the word "police", Mr de Menezes gets up and advances towards the CO19 officers, a surveillance officer is quoted to have said.
A member of the surveillance team describes grabbing him and holding him down.
According to the report, he said: "I grabbed the male in the denim jacket by wrapping both my arms around his torso, pinning his arms to his side.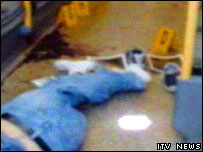 ITV images show Mr de Menezes lying dead in a Tube train
"I then pushed him back on to the seat where he had been previously sitting...I then heard a gun shot very close to my left ear and was dragged away on to the floor of the carriage."
Mr de Menezes was shot seven times in the head and once in the shoulder, according to the post-mortem examination.
Three other bullets missed their target.
By 1050 BST news of the shooting breaks in the media.
Reports emerge that a suspected suicide bomber has been shot at Stockwell Tube.
One eyewitness says he saw about 20 police officers, some of them armed, rushing into the station before a man jumped over the barriers with police giving chase.
Another witness said the victim looked Pakistani and was wearing a thick winter coat.
He described him as looking like a "cornered fox" as he was "hotly pursued".
The witness said he half tripped and was then shot five times in the head.
At 1150 BST Scotland Yard confirms that the man shot at Stockwell station died at the scene.
At 1600 BST Metropolitan Police Commissioner Sir Ian Blair says during a press conference that the shooting was "directly linked" to anti-terror operations.
23 July: At 1700 BST Scotland Yard says the victim was not connected to attempted terror attacks on the capital.
A spokeswoman said: "For somebody to lose their life in such circumstances is a tragedy and one that the Metropolitan Police Service regrets."
It is announced that the death is being investigated by officers from the Metropolitan Police Directorate of Professional Standards and will be referred to the Independent Police Complaints Commission.
At 2130 BST Scotland Yard confirms the identity of the victim.
25 July: At 1030 BST Scotland Yard Commissioner Sir Ian Blair apologises to Mr de Menezes' family but says there will be no change to the police's "shoot-to-kill" policy.
That afternoon Prime Minister Tony Blair says he is "desperately sorry" about the death of an innocent person.
An inquest in London hears Mr de Menezes was shot eight times.
26 July: Protests are staged in Mr de Menezes' home town of Gonzaga, Brazil, in anger at his shooting. They demand arrests are made.
27 July: Four cousins of Mr de Menezes hold a press conference in London demanding an end to the "shoot-to-kill" policy.
One of them Vivien Figueiredo, says she has been told by police her relative was wearing a denim jacket at the time of the shooting and had used his travel card to get through the station.
28 July: Mr de Menezes' body is flown home to south-eastern Brazil.
The Home Office announces his visa expired two years ago, a move which is later criticised by the Independent Police Complaints Commission.
IPCC chairman Nick Hardwick says: "It's entirely irrelevant information. I'm rather surprised the Home Office should issue it."
29 July: The funeral is held of Jean Charles de Menezes in his home town Gonzaga.
To coincide, in London a vigil is held in Parliament Square followed by a Requiem Mass at Westminster Cathedral.
2 August: Tony Blair is reported to have called the President of Brazil Luiz Inacio Lula da Silva to express his regrets for the killing and give assurances that there will be an independent probe into the shooting.
17 August: Documents from the IPPC are leaked to ITV news apparently discrediting earlier reports of the shooting.
Mr de Menezes' family again call for the "shoot-to-kill" policy to be suspended and for a public inquiry.
Go to Original Article >>>
The views expressed herein are the writers' own and do not necessarily reflect those of Looking Glass News. Click the disclaimer link below for more information.
Email: editor@lookingglassnews.org.