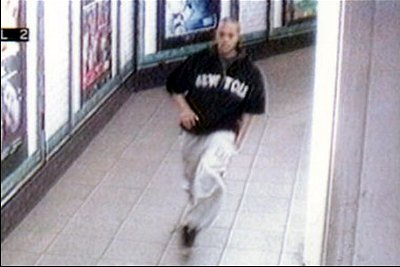 One of the alleged bombers caught on CCTV.
Along with the fact that the man in overall command of London transport network, Robert Kiley, is a former Executive Assistant to the Director of the CIA, with extensive experience in covert operations, the following details yet another element in what is increasingly beginning to look like a classic false flag operation. Ed.
Israeli Security to Protect London's Underground
Tuesday, September 21, 2004 – 6 Tishrei 5765
An Israeli security firm has been chosen to provide security for London's Underground train network.
Verint Systems, a subsidiary of Israel's Comverse Technology announced that Metronet Rail has selected Verint's networked video solution to enhance security of the London Underground, according to an Israel21c report.
After extensive testing of Verint's networked video system, including pilot installation on selected rail lines, Metronet Rail selected it to be installed on the entire Underground. The system will enable security personnel to monitor passenger platforms and certain remote portions of the track.
Verint president and CEO Dan Bodner told Israel21c: "We have significant experience working with transportation authorities and are committed to delivering innovative networked video security solutions for the transportation industry."
Metronet Rail, under a 30 year contract with the UK government, is responsible for maintaining parts of the London Underground's infrastructure. This includes ensuring security in trains, stations, tunnels and bridges.
The London Underground handles more than 3 million passengers each day, making it one of the busiest transportation systems worldwide.
Go to Original Article >>>
The views expressed herein are the writers' own and do not necessarily reflect those of Looking Glass News. Click the disclaimer link below for more information.
Email: editor@lookingglassnews.org.