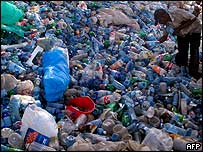 Non bio-degradable plastic is blamed for environmental problems
Kenya's biggest chain of supermarkets has introduced biodegradable shopping bags in response to concern about the pollution caused by plastic ones.
Nakumatt's new bags are treated to make them decompose more rapidly, a company spokesman said.
Ordinary plastic bags can take up to 1,000 years to disintegrate. Nakumatt distributes more than 30m bags a year.
Discarded plastic bags block drains, choke farm animals and marine wildlife and pollute the soil, activists say.
Environmentalists have also warned that bags on the ground can harbour mosquitoes, increasing the risk of malaria.
Environment Minister Kalonzo Musyoka said Kenya had considered banning plastic bags but had been asked not to by the Kenya Association of Manufacturers because about 20,000 people would lose their jobs.
Go to Original Article >>>
The views expressed herein are the writers' own and do not necessarily reflect those of Looking Glass News. Click the disclaimer link below for more information.
Email: editor@lookingglassnews.org.