A statement released by Scotland Yard regarding this morning's "London Terror" raid "proves" not only that they are clueless, but that they verify intelligence by conducting armed raids of residences at un-Godly hours of the morning and shooting at startled inhabitants.
This morning, shortly before 4am, the Metropolitan Police executed a search warrant at a house in Lansdown Road, Forest Gate, East London. The warrant had been issued for the search of those premises under the authority of the Terrorism Act 2000.
WOW. This was passed even before 9/11. They were prepared beforehand.
This operation was planned in response to specific intelligence. As always, our overriding concern is for the safety of the public. Because of the very specific nature of the intelligence, we planned an operation that was designed to mitigate any threat to the public either from firearms or from hazardous substances.
Like the kind of intelligence that led to the Iraq invasion?
Some officers were armed, and others equipped with protective clothing. In planning the operation we worked closely with other agencies including the Security Service, the Health Protection Agency, the London Ambulance Service and Fire Brigade, and the London Borough of Newham.

You will appreciate that I am not in a position to discuss details of the intelligence with you. However, what I can tell you is that the intelligence was such that it demanded an intensive investigation and response.
Notice how no one is ever in the position to discuss the "details of intelligence" until of course it's thoroughly discredited by obvious facts.
The purpose of the investigation, after ensuring public safety, is to prove or disprove the intelligence that we have received. This is always difficult, and sometimes the only way to do so is to mount an operation such as that which we carried out this morning.
So, the public is supposed to accept the fact that in order to verify intelligence, police must conduct armed raids of their residences at ridiculous hours in the morning.
During the course of the operation, a 23-year-old man who was in the premises received a gunshot wound. The circumstances of this are being investigated by the Independent Police Complaints Commission, and it would therefore be inappropriate for me to make any further comment about this.
He "received" a gunshot wound? They make it sound like it was delivered anonymously by mail.
And he probably "received it" for being shocked and outraged at the invasion of his privacy by a fleet of armed men at 4 in the morning. How would you react?
I can tell you that the injured man has been taken to the Royal London Hospital where he has received treatment. He has also been arrested on suspicion of being concerned in the commission, preparation or instigation of acts of Terrorism.
Adding insult to injury, they arrested him to give the appearance that they shot at him legitimately.
Another man, aged 20, who was in the premises at the time of the operation has also been arrested under the Terrorism Act, and is being held at Paddington Green Police Station.
The only other witness must also be isolated from the public.
The investigation, to prove or disprove the intelligence that prompted the operation, continues. As always this will be thorough, and one part of it will be a painstaking search of the premises in Landsdown Road. This has started, but may take some time, in all probability several days to complete.
Good PR takes time. Your patience is appreciated as much as it is mandatory.
___________________________________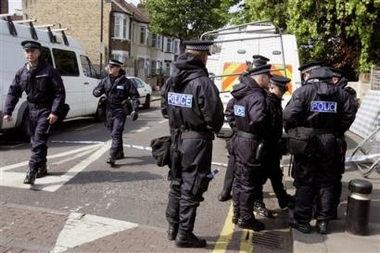 Cowboy UK Police Shoot Another Unknown 'Terror Suspect'
De Menezes lessons not learned, again proves shoot first, ask questions later policy still active
Paul Joseph Watson/Prison Planet.com | June 2 2006
Today's news that British police almost killed another unnamed alleged "terror suspect" in London under the shoot first, ask questions later policy proves that the lessons of the brutal murder of Charles De Menezes have been completely discarded.
Police raided the family home, a family described as "respectable and "nice people" by neighbors, in the middle of the night and shot a 23-year-old man in the shoulder.
If the bullet had been three inches higher this would have been 'De Menezes 2' and another unprovoked targeted assassination by London Metropolitan Police.
As per usual, the identity of the suspects and the nature of their alleged crime is completely unknown at this time.
Maybe their crime was to own a vehicle or a house, two of the benchmarks of terrorism according to the Metropolitan police, who launched a poster campaign to encourage Londoners to report on their neighbors.
We are expected to place our trust in the reasoning of the same people who chased and gunned down Charles De Menezes, a completely innocent man who didn't even show signs of suspicious behavior, shortly after the London bombings last year.
Occasional 'terror raids' in which anonymous people are snatched in the middle of the night and disappeared create a chilling effect that Blair's government needs to stem the tide of dissent.
Police battered down the door at 6am and ripped apart a Reading landlady's home because a Pakistani suspect they were looking for had once rented a room from her.
New glorification of terrorism legislation is so broadly and loosely defined that this writer could be vanished by the thought police for disagreeing with the government's version of events for an event like the 7/7 bombings.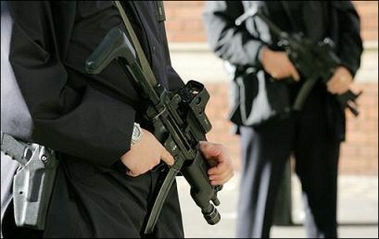 Only seventeen of the 700 plus individuals grabbed from their own homes have ever been charged with a terrorist offence under the 2000 Terrorism Act yet the endless 'terror raids' are inflated and characterized by the media as proof that Britain is under constant threat and that evil terrorists are lurking in people's neighborhoods.
In March, the Association of Chief Police Officers in Britain concluded in its inquiry that the shoot to kill policy which was carried out in the murder of Jean Charles de Menezes was acceptable and should not be altered. Since de Menezes' behavior gave no sign whatsoever that he was a potential suicide bomber, this was a strong statement of intent.
What is the message being sent?
We are the bosses, we are in control. We can carry out targeted assassinations on British soil and there's not a damn thing you can do about it apart from sit down and shut up. Otherwise you just might become the next target of her Majesty's secret death squad.
We will wait to discover what dastardly deed these dangerous terrorists were planning, and if it was similar in nature to the fearsome plan to bomb Manchester United's football ground or the fabled plot to poison the underground with Ricin.
Both these schemes were of course completely dreamed up creations of British intelligence and Tony Blair's government, released at politically opportune times to scare the British public into supporting wars and selling their own freedom down the river.