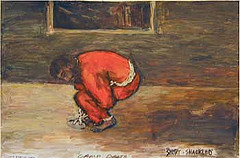 The number of Guantanamo Bay prisoners taking part in a nearly five-month-long hunger strike has surged to 84 since Christmas Day, the US military says.
Forty-six detainees at the prison for foreign terrorism suspects at the US naval base at Guantanamo Bay, Cuba, joined the protest on the key Christian holiday last Sunday, said Army Lieutenant Colonel Jeremy Martin, a military spokesman.
Australian detainee David Hicks is not believed to be part of the hunger strike.
The prisoner population, which the Pentagon says numbers about 500, is believed to be uniformly Muslim.
Only nine have been charged with any crime.
"There's been a significant increase in the number that have been added to the hunger strike," Martin said.
Lawyers for some of the detainees call the strike a protest of the conditions in which the prisoners are being held and their lack of legal rights.
Medical personnel were force-feeding 32 of the hunger strikers with plastic tubes inserted into the stomach through the nose, the military said.
Asked the purpose of the force-feeding, Martin said: "Because our policy is to preserve life."
The military defines a hunger striker as a detainee who has refused nine straight meals.
Military officials often refer to the hunger strike as a "voluntary fast" and the force-feeding as "enteral feeding."
The detainees launched the strike in early August after the military reneged on promises to bring the prison into compliance with the Geneva Conventions, lawyers representing them said.
Detainees are willing to starve to death to demand humane treatment and a fair hearing on whether they must stay at the prison, the lawyers said.
Most of the detainees were captured in Afghanistan and have been held for nearly four years.