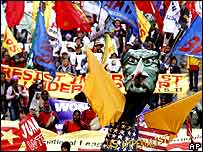 Protesters chanted 'Down with WTO'
Hong Kong's leader has vowed to punish protesters who attacked policemen outside world trade talks on Saturday.
Donald Tsang was speaking after meeting police officers in Wangchai district hours before demonstrators gathered for another - largely peaceful - protest.
About 900 people, many South Korean farmers, were arrested after Saturday's clashes that injured more than 70.
South Korea's foreign ministry is to "make its best diplomatic effort" to release them, AFP news agency reports.
It quoted a statement by Prime Minister Lee Hae-chan expressing concern over the arrests - adding that Deputy Foreign Minister Lee Kyu-Hyung was to fly to Hong Kong on Monday to deal with the issue.
No chances
In the latest demonstrations, activists gathered in an area near the talks venue the police had sealed off ready for protests.
The defences there have been reinforced with heavy stone blocks piled up on both sides of the road to the conference centre. Between them sit armoured vehicles equipped to fire teargas grenades.
The march was led by local activists followed by a small group of Korean farmers.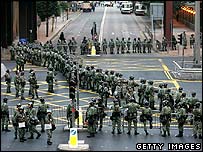 Against [those] whom we have evidence that they have caused violence and attacked policemen and law enforcement agencies we will take them before the court Donald Tsang, Hong Kong leader
The protesters lit a small fire in front of the police lines as darkness fell.
Chanting "Down, down WTO", they listened to speeches in the presence of reinforced police, who say they are taking no chances.
Most of those held after Saturday's clashes - the worst violence in Hong Kong since 1989 - are South Korean farmers.
"All the people we have apprehended, we have apprehended according to the law of Hong Kong. They will be dealt with according to the law of Hong Kong," said Donald Tsang.
"Against [those] whom we have evidence that they have caused violence and attacked policemen and law enforcement agencies we will take them before the court. Those [for whom] we have no sufficient evidence we will release them.
"I think we have done and demonstrated to the rest of the world we are able to handle the situation well and we have dealt with all people appropriately and fairly, in an open and fair fashion."
The demonstrators are protesting against what they see as exploitation of the poor by the richer countries.
French anti-globalisation farmer Jose Bove defended the protests.
"What the small farmers want all over the world is to feed their own population," he said. "That's what the people are fighting for."
___________________________
From BBC News
http://news.bbc.co.uk/2/hi/business/4537890.stm
Tense stand-off at trade summit
Riot police have fought running battles with anti-globalisation protesters near world trade talks in Hong Kong, in the worst violence there for 16 years.
Protesters with bamboo sticks broke through police lines, until they were forced back with tear gas and batons.
Nine hundred demonstrators have been penned in by police on a road but their protest continues. Police say they "will be handled according to the law".
Police say 41 people, including five officers, have been injured in clashes.
Talks have failed to agree on a firm date for ending farm export subsidies, the draft summit declaration shows.
The US and developing states wanted a 2010 deadline, but the EU has rejected this.
The commitment to open up service markets
The six-day talks are due to end on Sunday, but some delegates from the 149 states have threatened to walk out if their concerns are not addressed.
Brazil has said it does not think trade talks will be able to take the process much further, and has pledged to renew its call for a summit of world leaders.
"There is a need to inject political energy into the negotiations," Foreign Minister Celso Amorim said, following the release of the draft text.
Escalation
Protesters led by South Korean farmers - among the most heavily subsidised in the world - had vowed to step up action against the world trading system on Saturday.
Police chief Dick Lee said about 1,000 protesters had suddenly broken off from an official march and charged a cordon keeping them away from the convention centre.
"A major confrontation ensued," he said, in which protesters fought police with iron poles, and broke through barriers.
A senior government official appeared on television to warn people to avoid the unrest, the worst in Hong Kong since angry protests erupted after the crackdown in Beijing's Tiananmen Square in 1989.
Later police said they had regained control.
A BBC News website correspondent on the scene reported that at 2300 (1500 GMT) a non-violent stand-off was continuing between police and protesters on the Gloucester Road near the Hong Kong Convention and Exhibition Centre in the Wanchai district.
The demonstrators were chanting anti-WTO slogans and appeared ready to stay all night.
'Disgrace'
The protests came as delegates studied the text of the draft agreement, which has been condemned by some developing countries for not addressing their concerns.
Many feel they are being pressed too hard to allow foreign competition in service industries.
And some are also likely to be disappointed by the lack of progress on a plan to give duty-free and quota-free access to exports for the world's least-developed states.
Some African countries have been seeking the elimination of subsidies for rich-country cotton farmers.
The draft stops short of that, suggesting instead that they should be cut further and more quickly than for other farm products.
But the draft text asks rich states to scrap export subsidies for cotton by 2006, to help West African producers.
However, the EU has none and the US is already in the process of eliminating its main cotton export supports.
Relief agencies criticised the draft.
ActionAid called it a "a disgrace and an insult to poor people all over the world".
Key Trade Flashpoints

Cotton: African cotton producers say huge US subsidies distort trade but the US says it will only agree a deal on cotton as part of wider settlement on agriculture

Bananas: EU preferences to banana producers in former Caribbean colonies were ruled illegal by the WTO and Latin American countries say tariffs are too high

Food Aid: The EU says that all food aid should be given in cash and that US grain shipments to developing countries distort the market. The US believes food aid in kind is vital in famine relief

The key issues at the Hong Kong talks
____________________
From BBC News
http://news.bbc.co.uk/1/hi/in_pictures/4537666.stm
In pictures: Trade talks clashes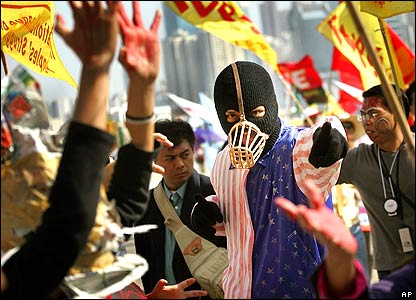 Hundreds of demonstrators have clashed with riot police near the world trade talks in Hong Kong.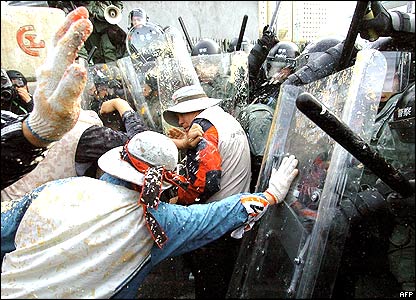 Nine hundred have been "rounded up", police say.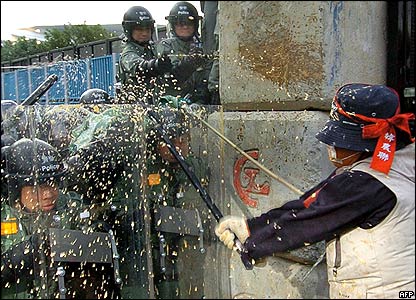 Some stormed police lines around the centre.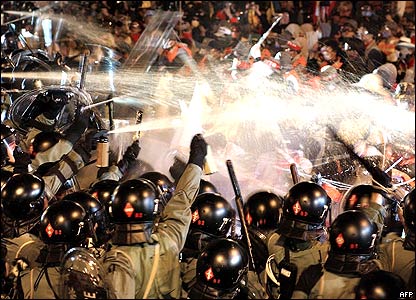 Officers used pepper spray and batons to push them back.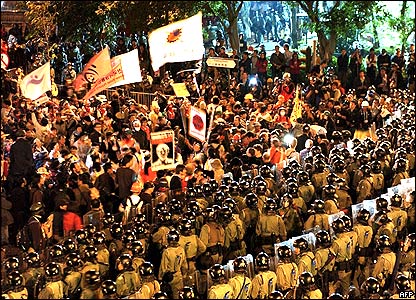 Correspondents say the unrest is the worst street violence in Hong Kong for 16 years.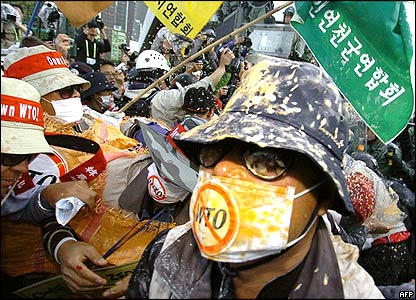 The scuffles involve South Korean farmers, South East Asian groups and European activists.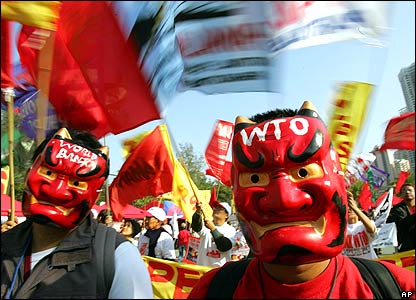 The Koreans - who are among the most vocal of the protesters - had vowed to step up action on Saturday.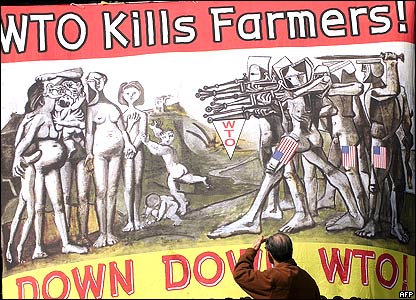 They object to the current world trading system.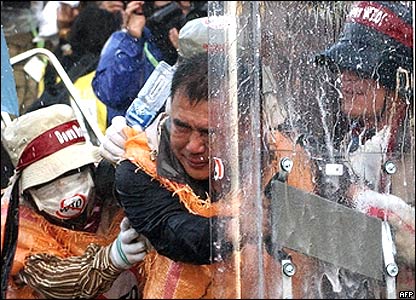 The protests came on the penultimate day of the summit.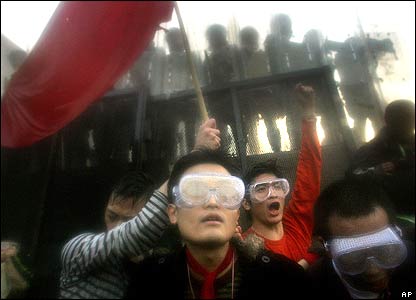 Some protesters have pledged to stay outside the conference centre all night.