WASHINGTON (AP) -- More than 10,000 fugitives wanted for murder, rape, child abuse and other crimes have been arrested in the largest coordinated crackdown by federal, state and local law enforcement officials in history.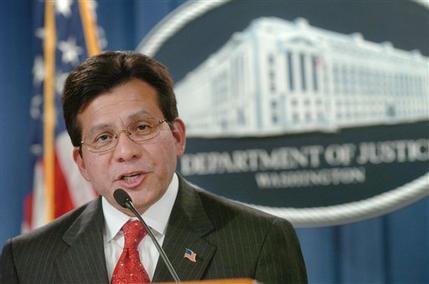 Attorney General Alberto Gonzales talks about the arrests of more than 10,000 fugitives nationwide during a news conference at the Department of Justice, Thursday, April 14, 2005 in Washington. Gonzales said most of the fugitives caught in "Operation Falcon" weren't first-time offenders. (AP Photo/Kevin Wolf)

The number of arrests during the weeklong effort was 10 times the average for such a period, according to the U.S. Marshals Service, which led the nationwide dragnet timed to coincide with National Victims Rights Week.

At the same time, however, those arrests represent just 1 percent of the 1 million fugitives in the FBI's national database, according to the Marshals Service.

More than 150 of those nabbed April 4-10 were wanted for murder, 550 were sought on rape or sexual assault charges, and more than 600 had outstanding arrest warrants for armed robbery, federal officials said Thursday.

Among those captured were 150 gang members and 100 unregistered sex offenders, said Attorney General Alberto Gonzales, who held a news conference with U.S. Marshals Service Director Ben Reyna to announce the results of "Operation Falcon" - an acronym for Federal And Local Cops Organized Nationally.

Jose Rivera-Sanchez was among the fugitives who had been on the run for years, living in Waterbury, Conn., until his arrest last week, 11 years after tunneling out of a prison in Bayamon, Puerto Rico. He had been serving a 37-year sentence for attempted murder, assault and robbery when he and nine other inmates escaped. One remains at large, Marshals Service spokesman Manuel Varela said.

Others arrested included Eddie Kelly, 24, wanted by Dallas police for allegedly killing a man by shooting him five times after leaving a drug house on Feb. 13, and Marcel Baldwin, 21, of Atlanta, who was found beneath a trap door in his kitchen. He was wanted on charges of assault and sexual offense against a child.

Nathan T. Speights, 28, of Syracuse, N.Y., was picked up in Baltimore on Sunday an hour after a warrant was issued for him in connection with the April 3 killing of Mark Sardella, 26, outside a private motorcycle club in Syracuse.

Gonzales said more than 70 percent of those picked up had prior arrests for violent crimes.

"We know from history - and from the bitter experiences of far too many victims - that a fugitive with a rap sheet is more desperate, more predatory, and more likely to commit the crimes that plague citizens and communities," Gonzales said at the news conference

The number of fugitives caught was at 10,472 Thursday, but officials said that could change as local police finish processing heavy caseloads from the past week.

Congress gave the Marshals Service more money and authority to go after fugitives when it refocused the FBI's mission toward stopping terrorism in the wake of the Sept. 11, 2001, attacks, said Marshals Service spokesman David Turner, noting that the agency now has five permanent regional task forces to search for fugitives.

The Marshals Service spent $900,000 on the weeklong exercise, most of it to pay overtime to local and state police. More than 3,000 officers from 960 federal, state and local law enforcement agencies took part.

"Our goal was to find out what impact we'd have in a nationwide effort," Reyna said.

Some of those arrested, particularly for the most violent crimes, would have been high on the marshals' lists no matter when warrants were issued. But officials said it was important to get state, local and federal officials to work together on such a broad initiative.

For all of last year, marshals arrested more than 36,000 people wanted on federal warrants, and worked with state and local authorities in catching another 31,600 fugitives, according to the Marshals Service's Web site.