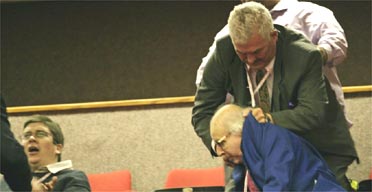 The Labour Party was forced to make a humiliating apology to an 82-year-old party member last night after he was thrown out of the conference for heckling Jack Straw.
Walter Wolfgang, a party member for 57 years, was bundled out of the conference hall by stewards after shouting "nonsense" as Mr Straw, the Foreign Secretary, defended Britain's role in Iraq. He was later stopped under anti-terrorist powers as he tried to re-enter the hall.
The heavy-handed treatment of Mr Wolfgang revived criticism of the " control freakery" associated with New Labour and even drew comparisons with the way the Communist leaders in Russia and China stifled dissent.
Mr Wolfgang fled Nazi Germany as a teenager for the freedom of Britain. He said: "I shouted out 'nonsense'. That's all I said. Then these two toughies came round and wanted to manhandle me out. 'I said: 'Do you want me to leave? I will leave, you don't need to manhandle me.'
"Physically, I am not too well, so I said I would follow them."
In what Tony Blair's anti-war critics have called the "don't mention the war" conference, the party avoided a separate debate and vote on Iraq and the Prime Minister made only a short reference to the issue in his keynote speech. Mr Blair also blocked a motion for the conference to pay tribute to Robin Cook, the cabinet minister who resigned over the war and died in August. Yesterday's protest was muted by Labour's standards, but the over-reaction by conference stewards backfired and turned into a public relations disaster for the party.
Steve Forrest, the chairman of the Erith and Thamesmead Labour Party, was also ejected for protesting at Mr Wolfgang's treatment. Angry delegates demonstrated at the removal of the two men as Mr Straw made an unapologetic defence of British policy in Iraq.
Mr Wolfgang, a prominent member of the Campaign for Nuclear Disarmament, said: "Most of the Labour Party stewards are very nice people. One or two people lend themselves to this nonsense. It makes me feel that the people who resort to these tactics are very unsure of themselves and they are on the losing side."
Mr Forrest said: "I literally said 'hear, hear' twice. Later, this gentleman shouted 'nonsense'. It was just the voicing of an opinion and they grabbed hold of him. I said: 'You leave him alone, he is an old man' and five stewards pulled me out of the centre. They've taken my pass away and they won't let me back into the conference centre."
Delegates forced an investigation by the party's conference arrangements committee into the incident. A Mole Valley delegate, Carol Hayton, said: " We are very concerned about the way in which a gentleman of more than 80 was manhandled from the balcony. Perhaps more appropriate action could have been taken but this was an 80-year-old gentleman and I am sure that Jack Straw, a politician of great experience, is able to deal with events of this kind without that kind of response from our stewards."
Linda Riordan, the MP for Halifax, added: "You can't stop ordinary members of the Labour Party having a debate about Iraq. It's not taking place in the conference hall, but it is going on in the bars and the corridors."
After initially defending its actions, Labour admitted Mr Wolfgang had been wrongly treated. Ian McCartney, the party chairman, said: "We apologise for the inappropriate way he was removed." A Labour spokesman said: " The Labour Party reserves its rights to remove from the conference site people who cause a persistent disturbance. However, it is clear from TV footage that the way in which Mr Wolfgang was removed was inappropriate."
When the Prime Minister was asked by a journalist whether he would apologise to Mr Wolfgang, he did not comment.
Mr Wolfgang was later greeted as a hero when he appeared at a rally of left-wingers in Brighton. His security pass has been taken away, but he intends to attend the conference's final day today.
Earlier Barry Camfield, the assistant general secretary of the Transport and General Workers' Union, accused the Government of allowing itself to act as a "crutch" for President George Bush over Iraq. He won loud applause as he declared: "Our troops should be pulled out now and quickly." He received more applause when he said: "I ask you in all conscience: are 100,000 civilian dead a price worth paying? Are the scores of British soldiers dead a price worth paying?''
How other delegates reacted
* "It was a dreadful overreaction by the stewards, who were understandably concerned about security" Health Secretary Patricia Hewitt
* "The stewards behaved completely inappropriately" Liam Byrne, Parliamentary Under Secretary of State for Care Services
* "The treatment was ... tactless and unnecessary." Linda Riordan, MP for Halifax
* "The Labour Party reserves the right to remove people who cause a persistent disturbance" Labour party spokesperson
* "It's heavy handed for people to be ejected" John Austin, MP
Get Alex Jones and Paul Joseph Watson's books, ALL Alex's documentary films, films by other authors, audio interviews and special reports. Sign up at Prison Planet.tv - CLICK HERE.E MAIL THIS PAGE