August 31, 2005 -- A convergence of investigations: AIPAC and ATC. As reported previously on WMR, federal investigators are poring over wiretap transcripts and other intelligence that link the Larry Franklin/Rosen/Weissman AIPAC investigation to the investigation of who in the White House leaked the name of Valerie Plame Wilson and her Brewster Jennings & Associates non-official cover company to journalists, including Robert Novak. According to intelligence insiders, a new nexus of the investigation is the intelligence relationship discovered between AIPAC and the American Turkish Council (ATC). As with the AIPAC and Mossad penetration of the Pentagon, a similar ATC and Turkish intelligence penetration of the Defense Department was discovered and it reportedly involved some of the same players involved in the AIPAC probe, including former Deputy Secretary of Defense for Policy and Plans Douglas Feith.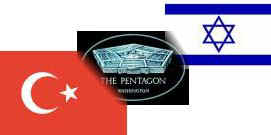 In addition, two former U.S. ambassadors to Turkey -- Marc Grossman (who has since joined the Cohen Group of former Defense Secretary William Cohen) and Eric Edelman, who replaced Feith at the Pentagon, were identified in FBI wiretaps as key players with the ATC. The AIPAC and ATC link involves individuals who profit from the use of Turkey as a base for nuclear materials proliferation, including fissile material from the former Soviet Central Asian states, and heroin distribution from Afghanistan and other countries to Europe and North America. The AIPAC-ATC links also involved persons and businesses tied to the A. Q. Khan nuclear proliferation network that was headquartered in Pakistan but had operational offices in Turkey. Those links, involving Israeli citizen and nuclear smuggler Asher Karni and Turkish Jewish businessman Zeki Bilmen and his New Jersey-based Giza Technologies, were first reported by WMR on August 1.
Another company that has reportedly been making entrees to the ATC-AIPAC influence peddling consortium is the Ashcroft Group, a firm set up in May 2005 by former Attorney General John Ashcroft to help countries with law enforcement and counter-terrorism. Ashcroft's partner in the Ashcroft Group is Juleanna Glover Weiss, who worked for Ashcroft, Steve Forbes, Rudolph Giuliani, and Vice President Dick Cheney. As one intelligence insider put the AIPAC-ATC links, "these have nothing to do with religion or politics, just pure greed."