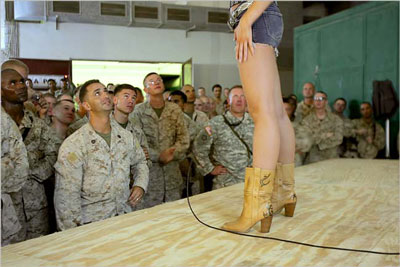 Porn for Troops
The headline is just above the fold of the Sunday Times: "Dancers Have Landed in Iraq. Marines Offer No Resistance." From the look and sound of the headline, it's a feature. It reads as such. It shouldn't be. What's not said in the story is what speaks loudest of the Times' occasional blindness for the forest fire as it covers a few burning trees (or loins in this case), but also of the American military's corruption, its obliviousness to why it's despised in Iraq, and the American public's obliviousness to why its military is becoming a mercenary force increasingly difficult to defend, or to differentiate from the misguided policies putting it in harm's way. Of all that in a moment.
First, the story. It's about somewhat risqué dancers, women all of them, traveling to Iraq to give troops a show. The picture illustrating the story (see below) shows a small mass of troops in camouflage, men all of them, gawking at one woman on a plywood stage in traditional southern smutwear: short shorts, cowboy boots, Tammy Faye Bakker naildo. The picture stops at the contour of the girl's ass, leaving what lies above to the reader's imagination. In the audience one very young man looks like he's rubbing his hands. Another looks profusely sweaty. Another, the reigning redneck of the bunch, looks worn out from whistling. The dancers are from a group called Purrfect Angelz, a soft-porn troop based in California whose overwhelmingly white "models" speak the language and strike the poses of your conventional porn starlets on their way up and down whatever flagpole happens to be saluting them at any given time, hints of underage titillation included. (The picture illustrating the top of this article is one of their publicity shots.) Deena, for example, goes by the "Angelname" "Baby" because, she says, "I am the youngest, just turning 18." Her turn-ons? "Macho men with sexy lips." She terms herself the little sister of another dancer called, appropriately enough for a tour of that similarly named Iraqi death triangle, "Sunni," a more pornographically savvy girl whose back-to-school pose, autographed and on sale for $14.95, has high school fetish bouncing all over her silicone. No wonder that some of the young marines who lined up for their photo-ops with the merchandise, as the Times wrote, "were so mesmerized by the experience that they had to be reminded not to leave their weapons behind."
You can't begrudge soldiers for being soldiers. "The recruiter guaranteed me I could book a threesome for forty American dollars in Olongapo, PI," Anthony Swofford recalled in "Jarhead," describing the way he'd joined up. "I'd just turned seventeen. I'd had sex three times and been the recipient of five blow jobs and fourteen hand jobs. I was sold." You can't even begrudge the military for giving its soldiers what they want. It's rank insanity to send young soldiers to battle and deny them sex, alcohol and drugs—the three things that can make the inhuman experience barely more bearable. But they're not allowed. Alcohol and drugs are ostensibly banned from US bases. Sex isn't exactly available, though servicemen make do by way of rape. And to hear Pentagon cheerleaders describe it, the military is the last truly moral institution in the country; to hear Bush say it as he did at West Point a few years ago, the military's academy "is the guardian of values that have shaped the soldiers who have shaped the history of the world." So you can begrudge the military for acting as its troops' pimp—at taxpayers' expense. This was no USO tour. The Times story briefly, and only in brackets, says the tour "was paid for by the military and that the expenses consisted of travel costs and small stipends." But no word on actual costs. Considering that the troupe went to Haditha, a hotbed of violence, and that private security can cost as much as $500 a day, the use of words like "travel costs" and "small stipends" hides the true expense exactly the same way that American occupation authorities in Iraq have been playing a shell game with reconstruction money.
That could be chalked up to misjudgments, stupidity, boorishness, the sort of thing every military on the planet is good at, the sort of thing the US military, claiming as it does to be No. 1 in all things, is logically (and illogistically) best at. What can't be overlooked, what the Times and the military are not overlooking so much as leaving unsaid, is the city where this little featurish lap-dance is taking place. Haditha is the location of the revenge-massacre by the Marines last year of 24 Iraqi civilians. What that has to do with a bunch of dancers giving Marines a hard-on is this: From a journalistic perspective, the least the Times could have done is find a different town from which to dateline its bit of Sunday voyeurism. You wouldn't have gone to My Lai in 1970 to write about the latest war-time innovations in agriculture knowing what had happened there in 1968. Similarly, you don't go back to Haditha a year after its massacre and focus gazes and laughs on the underfolds of girls' thighs and the overfolds of soldiers' turgidity ("they had to be reminded not to leave their weapons behind"). You go back, as long as you're going back, in the same way that you might to New Orleans a year later, with a minimum degree of soberness and remove. The Times' story instead reads—and forgive the word, but this is no Sunday morning feature—as a fuck-you valentine to Haditha and its people.
The military couldn't be happier. Here's the press doing its bidding, turning the light from the only place it's focused on whenever the subject of Haditha comes up and focusing it on something utterly irrelevant, except for its symbolically telling image: soldiers' libido, and the reduction of soldiers' motives and being to something merely meaty and supposedly endearing in that Friday evening high-school-football atmosphere, where testosterone excuses all and women are just part of a scenery to take advantage of. Then we wonder why they unbuckle and rape: Diminish a soldiers' purpose to that of a mercenary, and he'll oblige. That's what Iraq has done to the military. The Pentagon is playing along, unable to control what it has enabled. Whorish shows on a plywood stage are merely the projection of a mission that rotted long ago, a degeneration in full bloom.
There's also the cultural dimension of the story, demolishing as it unwittingly does any notion that Americans are in Iraq to respect local norms in any way (not that local norms are defensible: but again, we're going on what the military claims to be spreading and respecting). "Why do they hate us"? Look at what you're parading on your plywood stages in Iraq while your men are rampaging through Iraqi streets, protecting what they're destroying and calling it "stabilization." Is the military that oblivious? Doubtful. There's tactical idiocy—the inability to read a local culture in order to better tame it. But this is purposeful idiocy. This is sticking America's boot up Iraq's rear. It is doing to Iraq what the Times story does so well: adding obscenity to injury and reveling in the spoils. Taxpayers are probably just as oblivious, or happy to foot the bill, making the Times' headline slightly misleading. It should read: "Dancers Have Landed in Iraq. Americans Offer No Resistance."
In other words, just purr and let the show go on.
_____________________________
Read from Looking Glass News
The invaders enjoying our soil, sun and water, while Iraqis are dying
Marine's wife paints portrait of US troops out of control in Haditha
US soldiers: Iraq massacre not exception
Sexual Perversion in Rumsfeld's Pentagon
Go to Original Article >>>
The views expressed herein are the writers' own and do not necessarily reflect those of Looking Glass News. Click the disclaimer link below for more information.
Email: editor@lookingglassnews.org.