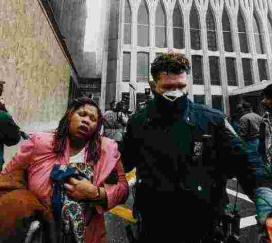 ...by chief federal prosecutors in case -- Patrick J. Fitzgerald and Michael Chertoff.
U.S. federal prosecutors suppressed critical evidence in trial of 1993 World Trade Center bombers. According to U.S. intelligence sources, the FBI and Justice Department sat on volumes of translations of Arabic telephone intercepts gathered before the 1993 bombing of the World Trade Center from U.S.- and Sudan-based Muslim militants who once worked for U.S. intelligence in the mujaheddin war against the Soviet Union in Afghanistan. The critical intelligence, which demonstrated a link between the CIA and "Afghan Arab" muhajeddin forces, including those loyal to Osama bin Laden, was never introduced into the trial of the Brooklyn- and Jersey City-based based cell that included the blind Egyptian cleric Shaikh Omar Abdul Rahman, Ramzi Yousef, and Eyad Ismail.. The New York and New Jersey cell also included Ali Mohammed, a graduate of the U.S. Army's Special Forces School at Fort Bragg, North Carolina, who, while an active duty member of the Special Forces, secretly traveled to Afghanistan to train Bin Laden's forces and provide special intelligence on U.S. "soft targets" for terrorist attacks, and Wadih el-Hage, Osama bin Laden's personal secretary, who was also a resident of the United States.
Some of the surveillance intelligence came from decoded diplomatic communications between the Sudanese Mission to the United Nations and Khartoum, Sudan, where Osama Bin Laden then resided. While in Sudan, Bin Laden coordinated attacks on U.S. forces in Somalia and Saudi Arabia. WMR previously reported that a classified French intelligence report stated that Bin Laden and his Afghan forces remained under the operational control of Britain's MI-6 and the CIA until 1995.
Ironically, the two men responsible for the failure to present the surveillance intelligence on the 1993 World Trade Center bombers to the juries and grand juries hearing the charges -- the main federal prosecutors for New York City and New Jersey in the bombing case -- were Patrick J. Fitzgerald and Michael Chertoff, respectively.
According to an FBI source, the chief FBI investigator against Al Qaeda in the 1990s, the late John O'Neill, was upset that the much of the telephone surveillance of the bombers was never introduced as evidence and remained un-translated and classified.
___________________________
Read from Looking Glass News
Michael Chertoff: of the Devil?
Fitzgerald: Over his head and folding like a two dollar suitcase
Michael Chertoff: Homeland Security Is US Gestapo
Martial Law: Chertoff to the Rescue
Michael Chertoff: The Master of Disaster
Chertoff is out to catch Osama McLaden
The Wreck of St. Patrick Fitzgerald: CIA LEAK COVERUP
Fitzgerald vs. the Bush Administration: Hold Your Elation in Check
Go to Original Article >>>
The views expressed herein are the writers' own and do not necessarily reflect those of Looking Glass News. Click the disclaimer link below for more information.
Email: editor@lookingglassnews.org.