Terror tube: In another example of why the Patriot Act is bad for your freedom, the FBI has entrapped a Pakistan-born, naturalized U.S. citizen who sold New Yorkers satellite television packages that carried Hezbollah's al Manar channel, which is outlawed in the United States even though it is accessible for free over the Internet. On top of that, due to the recent warfare between Israel and Lebanon, the cable service Javed Iqbal sold to an FBI informant posing as a customer didn't work — so the FBI guy never was able to see al Manar.
Can anyone spell First Amendment? Is there a list somewhere of all the TV channels banned by the gubmint?
Note, too, this channel banning is being done by a government that for the past 40 years has beamed Radio Marti at Cuba. First, it used a huge balloon called Fat Boy that flew over Key Largo to shoot propaganda at Cubans who don't get enough propaganda at home, and when Castro blocked that signal, the U.S. government responded by beaming the signal from an airplane that just flies around near the communist island nation.
But you'd better not try to tune in al Manar on your Sony Trinitron within the continental United States — or else. Seems that because al Manar broadcasts hate talk (like Rush Limbaugh and Bill O'Reilly, only in Arabic), but especially because it broadcasts bank account numbers where you can wire money to support your local Hezbollah gunfighter, it's deemed illegal, ipso facto, with no discussion.
Who makes that decision? Is it Congress? I don't think so, or we would have seen the hearings on C-Span. Is it the Supreme Court? Nope, 'cause this is the first case of its kind. Is it Bushco, as led by Attorney Genital Alberto Gonzalez? You bet. The Patriot Act is a catch-all that allows the Bush administration to do whatever the hell it wants and your civil liberties be damned.
I went to al Manar on the Internet, but the English-language version was not accessible due to recent bomb damage. On the Arabic site, however, it looked like there was a story about the president of Syria, Hezbollah's Nasrallah, George Bush wagging his finger and some scenes from the war. Curiously, on the right side of the Google page was an advert for software that enables a PC to stream video from 3000 TV stations in 78 countries.
Something just ain't right here. Read more about the case of hapless satellite TV sales guy Javed Iqbal in the New York Daily News.
____________________________
Hez TV is a bust
Feds nab dish salesman pitching terror channel
BY THOMAS ZAMBITO and JOHN MARZULLI
DAILY NEWS
I want my HezTV!
That was the alleged pitch of a Staten Island satellite TV salesman busted by the feds for beaming the terrorist network Hezbollah's hate-filled al Manar channel - which is banned in the U.S. - into New York City living rooms.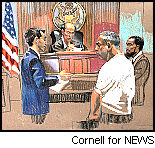 Javed Iqbal (c.) is shown in Manhattan court yesterday.
"Why don't you watch al Manar?" Javed Iqbal asked a customer who turned out to be an FBI informant secretly recording the conversation, officials said yesterday.
The unique case, prosecuted under the federal Patriot Act, raised First Amendment concerns among civil liberties groups - and follows battling between Israel and the Lebanon-based terror group.
The feds were tipped this year by a media watchdog group that Iqbal, a Pakistani national who sells satellite dishes out of his storefront business in Brooklyn called HDTV Ltd., was offering al Manar broadcasts as part of the package, according to court papers unsealed yesterday.
The Treasury Department designated al Manar, a Lebanon-based satellite TV station controlled by Hezbollah, as a global terrorist entity in March, making it a federal crime to buy the satellite service - even though the channel can be seen for free on the Internet.
The FBI informant contacted Iqbal, whose business is located on Fort Hamilton Parkway in Dyker Heights, about installing a satellite system at his Manhattan apartment. When Iqbal learned the customer was Lebanese, he encouraged him to sign on for al Manar, officials said.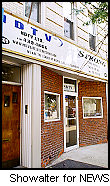 Salesman with TV satellite dish store in Brooklyn was nabbed for offering to install illegal terror channel.
With hidden cameras rolling, Iqbal's satellite system was installed at the informant's apartment last month - but the al Manar channel didn't work.
"Iqbal stated that the [informant] would have to wait to have al Manar service installed because the recent war [in Lebanon] had damaged al Manar's ability to broadcast," stated an affidavit by Charles Villani, an investigator for the Manhattan U.S. attorney's office.
FBI agents armed with a search warrant raided Iqbal's office and home in Staten Island Wednesday, carting off records, computers and electronic equipment.
They left behind nine massive satellite dishes stored in the yard and three small dishes on the roof.
Iqbal, 42, a married father of four, was ordered held last night in lieu of $250,000 bond.
Defense lawyer Mustapha Mdanusa suggested Iqbal was entrapped.
"The [informant] could have asked for MTV or Playboy," he told reporters.
Lawyers for Iqbal said that half of his business was feeding programming from evangelical churches in Texas to customers.
Harold Lane, 80, a World War II veteran, said Iqbal, who has been in the U.S. for 24 years, is a good neighbor.
"He flies the American flag and he told me he loves this country," Lane said. "He's a very pleasant guy."
"But I'm from the old school. I don't believe in fooling around with this terrorism stuff or anything that's against my country."
Donna Lieberman, executive director of the New York Civil Liberties Union, called the arrest troubling. "In a free society, all speech is protected regardless of the viewpoint," she said.
But Mark Dubowitz, who heads the think tank Foundation for Defense of Democracies, said al Manar is not banned for its content, as ugly as calling on Muslims to carry out suicide attacks against U.S. troops and its allies may be.
"Al Manar is a terrorist organization masquerading as a TV channel," said Dubowitz, who alerted authorities to Iqbal's alleged al Manar sales. "It is being used to raise money ... by broadcasting bank account numbers where viewers can donate money to Hezbollah and other terrorist organizations."
Go to Original Article >>>
The views expressed herein are the writers' own and do not necessarily reflect those of Looking Glass News. Click the disclaimer link below for more information.
Email: editor@lookingglassnews.org.