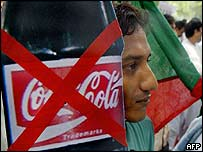 The earlier report sparked protests in India
An Indian non-governmental organisation says samples of Coca-Cola and Pepsi products are showing even worse levels of pesticides than in a previous study.
The Centre for Science and Environment (CSE) said their investigations revealed that the drinks contain harmful residues, posing a health risk.
A CSE report in 2003 resulted in Pepsi and Coca-Cola strenuously rejecting claims that their drinks were unsafe.
Soft drinks manufacturers have condemned the latest findings.
"Soft drinks are completely safe," the Indian Soft Drink Manufacturers Association (ISDMA) said in a statement on Wednesday.
"The soft drinks manufactured in India comply with stringent international norms and all applicable national regulations."
Public outcry
CSE Director Sunita Narain told journalists in Delhi that samples from 12 states showed that Pepsi products contained 30 times more pesticides than found in 2003.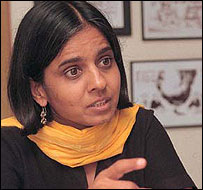 "This is a grave public health scandal" CSE Director Sunita Narain
Likewise she said that Coke samples had 25 times the amount of pesticides found three years ago.
She alleged that despite the public outcry over the issue following the first report, the government has failed to set up the necessary quality-control standards for the soft drinks industry.
India does not have any purity standards for soft drinks.
The Bureau of Indian Standards (BIS) - the highest government body to maintain product quality certification - has set a pesticide standard for bottled-water only.
The CSE study used that recommendation in their tests.
In 2003, an Indian parliamentary committee upheld the CSE findings on the presence of pesticide residues and recommended that standards were set for soft drinks too.
The Indian Food Processing Industries minister, Subodh Kant Sahay said the government would look into the matter when it receives an official complaint.
________________________
Read from Looking Glass News
India: Everything Gets Worse With Coca-Cola
Coca-Cola and Water - An Unsustainable Relationship
Coca-Cola Faces Mounting Pressure over Abusive Practices at Plants Worldwide
Soft Drinks Found to Have High Levels of Cancer Chemical
Soda Deal with Clinton Foundation Latest PR Stunt
Drink More Diet Soda, Gain More Weight?
U. of Michigan Becomes 10th College to Join Boycott of Coke
Coca-Cola Threatens Top Indian Photographer with Lawsuit
Mexican shop owner beats Coca Cola
Go to Original Article >>>
The views expressed herein are the writers' own and do not necessarily reflect those of Looking Glass News. Click the disclaimer link below for more information.
Email: editor@lookingglassnews.org.