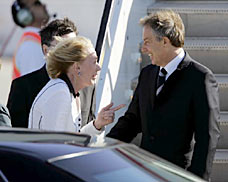 Charlotte Shultz greets Tony Blair on his arrival in San Francisco
...partying with the super rich in America
The sign over the door says 999 Green Street, Penthouse 1.
But the $5million apartment with its sweeping vista of San Francisco Bay where Tony Blair wast feted by America's wealthiest, is quite simply the most exclusive job centre in town.
The Prime Minister flew into California amid claims he was using a taxpayer-funded trip to tout for lucrative retirement berths on the boards of American conglomerates. If so, he had certainly come to the right place.
He began his five-day West Coast tour with a glitzy cocktail party attended by America's richest men.
The soiree was arranged by society hostess Charlotte Shultz, whose husband George has advised the last three US Presidents.
She gushingly greeted Mr Blair when he arrived in San Francisco earlier before he rubbed shoulders with a select group of super-rich guests at the couple's home.
Among the 90 present were stockbroker Chuck Schwab and Phil Bronstein, Sharon Stone's media tycoon ex-husband. There were also executives from US corporate giants such as Chevron oil, internet search engine Yahoo and Wells Fargo bank.
The official reason for the visit - the first by a serving Prime Minister to San Francisco - was to promote British trade interests. But the Tories accused Mr Blair of using the trip as a "gissa-job" opportunity.
Indeed, Mr Shultz, 85, retains an enviable reputation as one of California's best-connected men. His paid business interests include the banking giant JP Morgan, international stockbrokers Charles Schwab and management consultants Accenture.
Most controversially, he is the former president and director of Bechtel, the construction conglomerate which has been accused of having undue influence in Downing Street.
The San Francisco-based company has helped devise Mr Blair's new nuclear power strategy - but despite its inside knowledge it has itself recently been given the go-ahead to bid for potentially lucrative radioactive waste clean-up projects.
Bechtel also has ambitions to build the 2012 London Olympic village and the Crossrail rail project linking East and West London.
Group chairman Riley Bechtel was awarded a CBE in the foreign honours list for services to "UK-American commercial relations'.
Mr Shultz remains well plugged into the Republican establishment, advising President Bush on foreign policy.
He was a leading advocate of "pre-emptive" action against Iraq and now recommends an equally hardline stance against Iran.
He is also a senior figure at Bohemian Grove, the secretive club of the US political and business elite which, by chance, is holding its annual gathering outside the city this weekend.
There was speculation that Mr Blair might even have been a guest at the male-only event, following in the footsteps of John Major and Prince Philip.
As it is, the Shultz party was said to have been littered with guests who had left the Grove in order to meet Mr Blair.
Mr Shultz's wife Charlotte has a reputation for throwing the best soirees on the West Coast.
Last year she entertained Prince Charles and the Duchess of Cornwall during their official tour.
The fun-loving Shultzes dressed up as Superman and Wonderwoman in an amateur revue show put on specially for the Royal couple.
A previous party guest said of the Shultzes' apartment: "It is the most spectacular place, with 360-degree views over the city, San Francisco Bay and the Golden Gate bridge.
"It has glass walls and is probably one of the most exclusive addresses in the country. It's very elegant inside, with priceless artwork on the walls."
Should Mr Blair elect to join the lucrative West Coast lecture circuit on his retirement, there will clearly be no shortage of invitations.
Mr Blair will also be the guest at a reception hosted by mayor Antonio Villaraigosa at the Getty Villa in Malibu. It reported that local officials were 'still dealing with attendance' requests from Anglophile business leaders.
Mr Blair will also fly the flag for BP boss Lord Browne of Madingley, who is eager to trumpet the oil giant's new-found 'ethical' and 'green' credentials.
BP employs former Downing Street "gatekeeper" Anji Hunter as a £250,000 troubleshooter - and there has been speculation that the Prime Minister might follow her there as a non-executive director.
The Tories have suggested his motivation for the taxpayer-funded trip was to find well-paid work to help repay the £3.6million mortgage on his London home.
Transport spokesman Chris Grayling urged him to provide the Commons with an urgent statement detailing exactly whom he was due to meet during the visit.
He said: "The trouble with the position that Mr Blair has now got himself into is that even if he is doing something perfectly properly, the suspicion always remains there is a hidden agenda.
"People see him as increasingly out of touch and preparing for resignation. That is neither a good thing for Britain nor the reputation of his own Government."
_____________________________
Read from Looking Glass News
Blair to attend Bohemian Grove This Weekend?
Blair revelations reiterate elite occult obsession
Question for Bush and Blair. What man involved in Middle East policy is "sweet," according to Bush and "honey," according to Blair?
TONY BLAIR'S SON TO INTERN WITH CONSERVATIVE CLOSET-CASE DAVID DREIER
IS BLAIR OFF TO JOIN $30BN WORLD ELITE?
Tony Blair – Former MI5 Informant?
Rupert Murdoch is effectively a member of Blair's cabinet
Go to Original Article >>>
The views expressed herein are the writers' own and do not necessarily reflect those of Looking Glass News. Click the disclaimer link below for more information.
Email: editor@lookingglassnews.org.