This is very bad news:
A decade after the Pentagon declared a zero-tolerance policy for racist hate groups, recruiting shortfalls caused by the war in Iraq have allowed "large numbers of neo-Nazis and skinhead extremists" to infiltrate the military, according to a watchdog organization.
These crazed fascists obviously have to be identified and weeded out of the ranks as quickly as possible -- otherwise they might start doing horrible things, such as, oh I don't know, firing tank cannons at journalists, raping and killing 15-year old girls and then burning their bodies, going house to house methodically shooting everyone they find, savaging prisoners with dogs, and forcing fathers to watch the anal rape of their sons.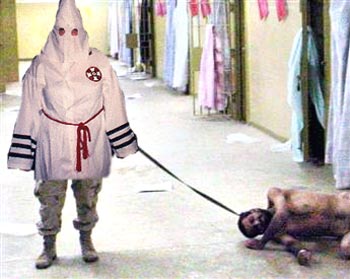 And we certainly can't have that.
___________________
Read from Looking Glass News
U.S. intelligence sources: Sexually-explicit photos at Abu Ghraib special ordered by a homosexual and pedophile ring inside the Bush White House
Details of Sexual Perversion At Detention Centers More Serious Than Media Reports
Sexual Perversion in Rumsfeld's Pentagon
Rape victim was 15 year old child
Criminal cases against U.S. soldiers
"U.S. troops raped Iraqi woman, killed her family"
US Soldiers in St. Louis Admit to Rape and Murder in Iraq
Go to Original Article >>>
The views expressed herein are the writers' own and do not necessarily reflect those of Looking Glass News. Click the disclaimer link below for more information.
Email: editor@lookingglassnews.org.